This is actually my mother's kale salad recipe. I really shouldn't call it that, a recipe, because she created it and had no idea what any measurements were. That is how my mom cooks, by taste. Everyone thinks their mother is the best cook, but my mother really is. She doesn't get caught up with sticking to specific genres of cuisine. For example, this recipe has sesame oil and sundried tomatoes together. Who does that? My mom does. She adds curry powder to her kielbasa and cabbage, and it's actually really good!  She is probably the reason why I fell in love with food. My mother will try anything and wanted her kids to do the same. She made pig ears when I was young and made all of us kids try it. Imagine how well that went over with an 8 year old. Let's say their were a lot of tears. Anyway, I aspire to cook like my mom, be fearless like her in the kitchen and not afraid to make mistakes. I forgot to mention one thing about the awesome cook, who I call mom…..she can't bake to save her life. Following a recipe or directions isn't her thing. It's almost like she is being put in a box and doesn't like it. Maybe that is why she is such a great cook, because she is awesome at improvising, which doesn't work so well when you bake.
Back to this kale salad recipe. My mom made it for us while she was visiting from Savannah.  It was very difficult to get any measurements out of her. We (Phil and I) had to do all the measuring for the dressing as she poured, but it was well worth it. This kale salad is awesome, so awesome I thought it should be the first blog post. I am always looking for ways to eat more greens or do something different other than sauteing them. This is it. It's definitely a salad because of the dressing but it's a hearty stick to your ribs salad because of the kale. You could actually use turnip greens or collards in place of the kale. Whatever sturdy leafy greens you can get your hands on. This salad makes great leftovers or a make ahead dish, the kale stands up to the dressing. You can still make this salad with normal salad greens but you definitely need to eat it the same day.  I picked up these greens at the Freedom Market at the Carter Center, it was pouring and unfortunately I didn't get the name of the vendor.
| | |
| --- | --- |
| | |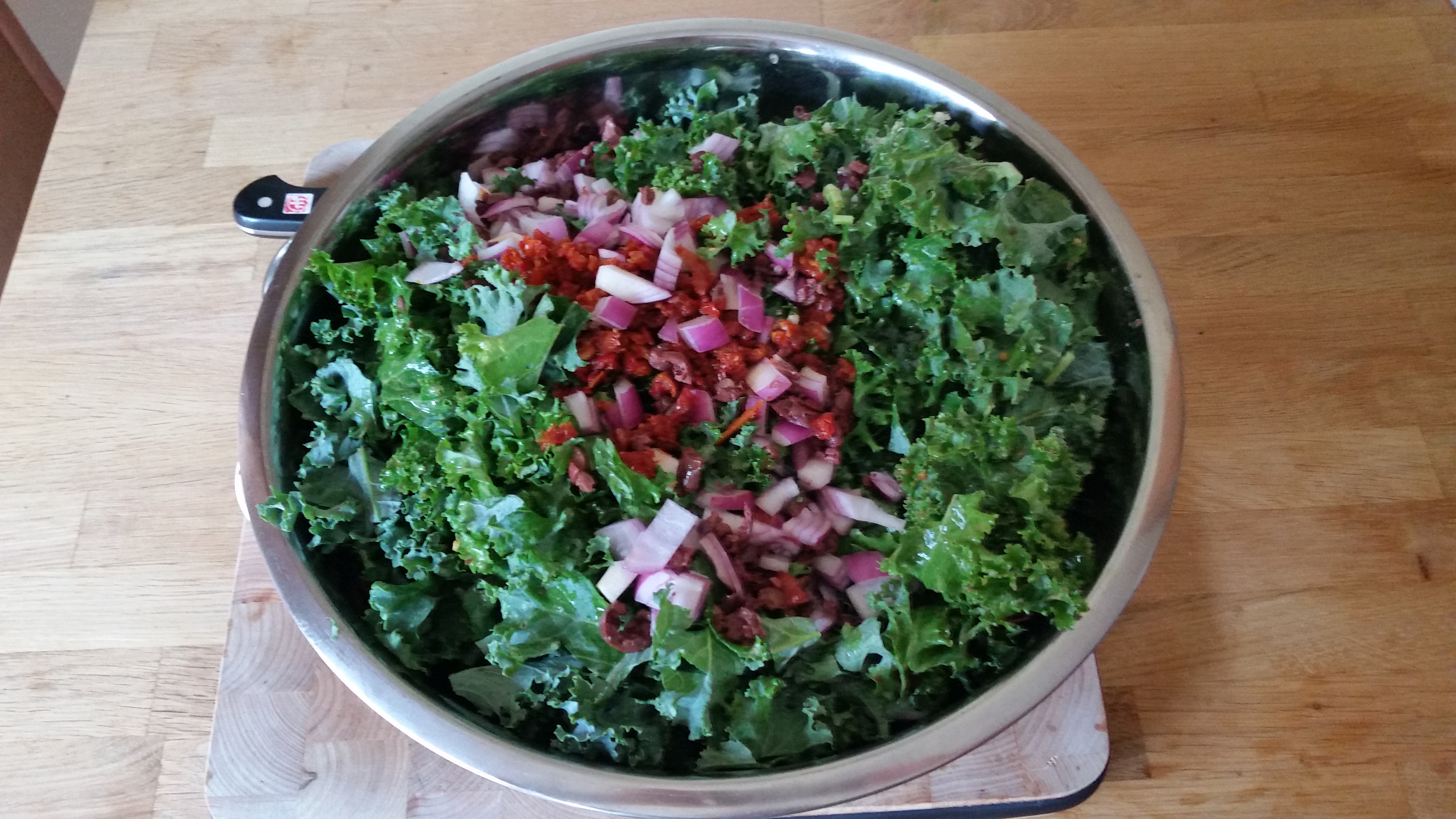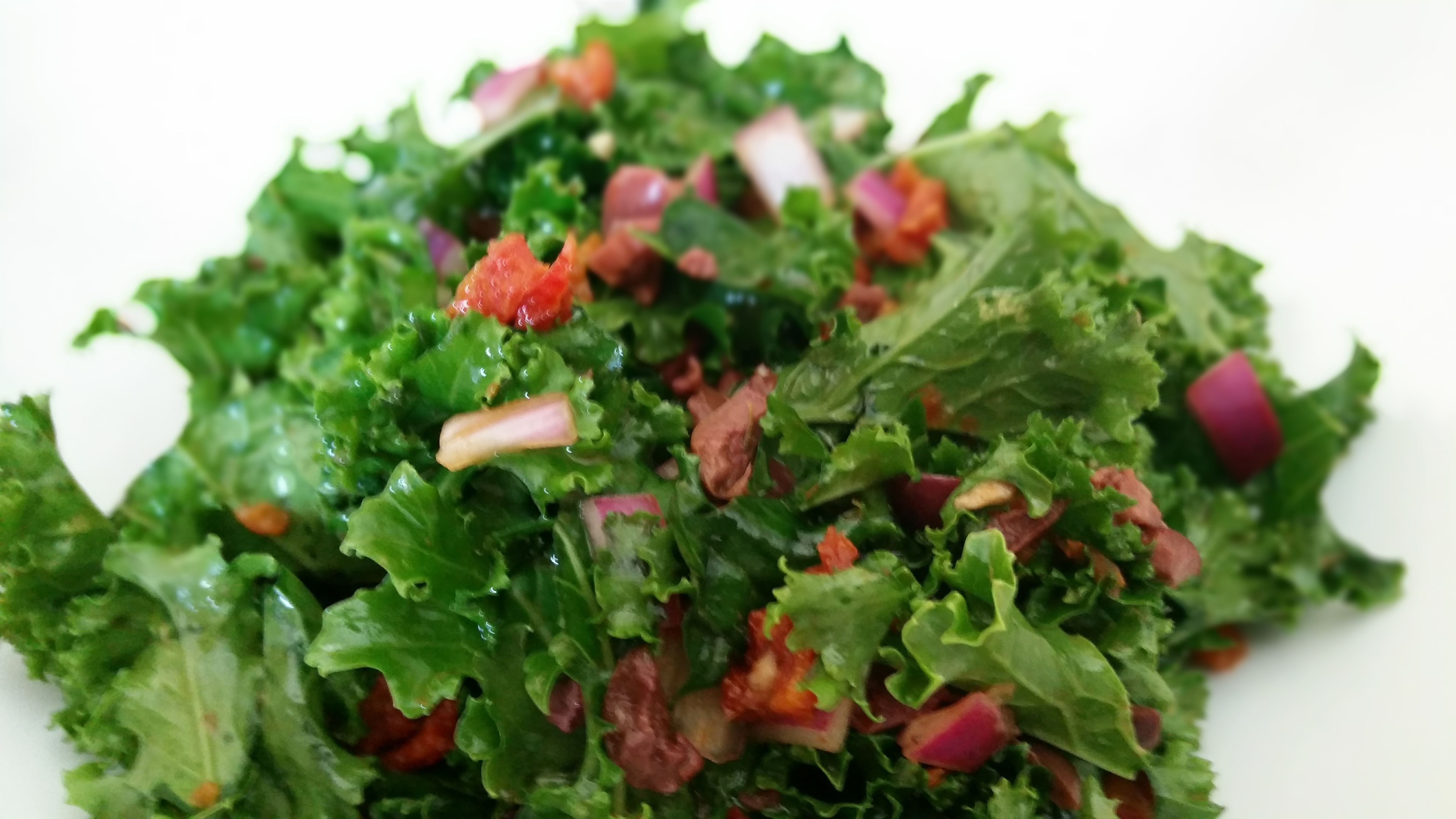 Kale Salad
Ingredients
Salad
2 bunches of kale (or any sturdy leafy green) removed of stems, chopped and washed.
¾ cup red onion chopped
½ cup kalamata olives chopped
½ cup sundried tomatoes chopped
Dressing
½ cup rice wine vinegar (unseasoned)
¼ cup cider vinegar
¼ cup soy sauce
¼ teaspoon sugar
2 garlic cloves minced
large pinch of red pepper flakes
¼ cup olive oil
¼ cup sesame oil
Instructions
Place the clean chopped kale in a large mixing bowl. Make sure the bowl is large enough to toss and move the kale around. Toss in the chopped onion, olives, and sundried tomatoes.
To make the dressing, in a large measuring cup or medium bowl, whisk together the rice vinegar, cider vinegar, sugar, garlic and red pepper flakes. Then whisk in olive and sesame oil. Add the dressing to the kale. With clean hands (they really are the best tool for this) massage the kale with the ingredients and dressing. The purpose of this is to break down the kale so it becomes tender. As you are massaging be sure to toss the ingredients well. This should take only a couple of minutes, just to you feel like everything is mixed very well. Sit for at least 3 hours to allow the flavors to develop.
Enjoy!
*If you plan to eat at the end of the 3 hours, left on the counter is fine. If you are not eating until the following day or want to store it, place in the fridge.