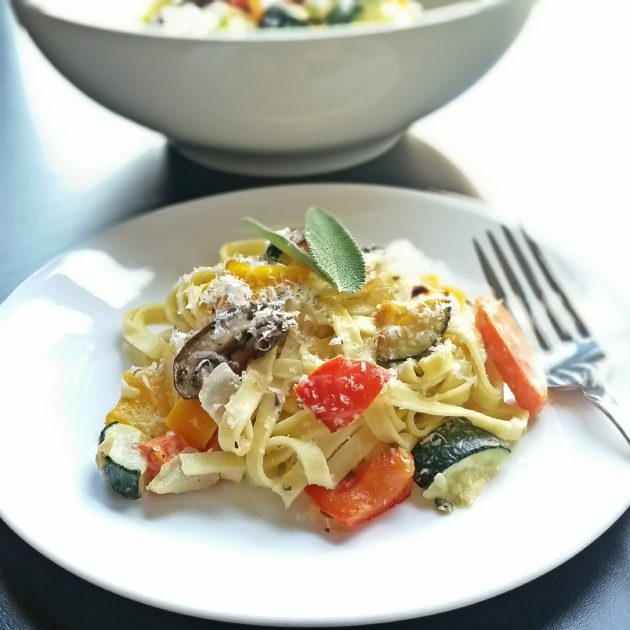 I have a Meatless Monday recipe for you….and it is so good you won't even miss the meat. Chunky roasted vegetables tossed with fresh pasta in a slightly creamy sauce. You will forget there is no meat! Think….healthier version of fettuccine alfredo.
Since our son has come along we have, unfortunately, become more meat eaters. Isaac pretty much only eats meat, bread, and baby food (sad, I know). B.I., (before Isaac) we would eat at least two vegetarian meals a week and usually all of our lunches for the week would be vegetarian as well.  In an effort not to let my two year old control our house, I am trying to incorporate more vegetarian meals back into our dinners. Don't get me wrong, Isaac did not eat this; Phil and I, however thoroughly enjoyed it. It was hearty and filling. The crème fraîche addition gives it a comfort food feel and adds a luxurious touch. Crème fraîche has the consistency of sour cream but taste like pure cream. No sour flavor here. I must admit I have not used creme fraiche a ton before this (just in desserts). I absolutely love the flavor and creaminess it adds! It's very versatile, and I plan on incorporating it in more recipes both savory and sweet.
Crème Fraîche Fettuccine with Roasted Vegetables
1 half of any squash you like, chopped (I used kabocha, feel free to use butternut, acorn etc).
1 onion, chopped
1 orange pepper, chopped
1 red pepper, chopped
1 yellow pepper, chopped
2 zucchini, chopped
2 carrots, chopped
8 ounces of crimini mushrooms, sliced
1.5 tbsp of fresh sage, minced
1 tbsp and 1 tsp kosher salt, divided
1/2 tsp and 1/4 tsp black pepper, divided 
1/3 cup olive oil
1/2 cup Crème Fraîche
2 – 9 ounce packages of fresh fettucine ( I noticed most fresh pasta comes in 9 ounce packages)
1/2 cup of reserved cooking liquid from pasta
freshly grated parmesan for serving
Preheat oven to 400ºF
In a large bowl, toss the vegetables with the olive oil, sage,  1 tbsp salt and 1/2 tsp pepper. Spread out your tossed vegetables on a sheet pan lined with foil. Roast the vegetables for 25-30 minutes or until soft and caramelized. Once finished, turn the oven off and keep the vegetables in the warm oven so they stay hot until you cook the pasta.
While the vegetables are roasting, in a large bowl, add the crème fraîche, 1 tsp salt and 1/4 tsp pepper. Set aside.
Cook the pasta in salted boiling water according to package. It is usually only 3 minutes. Once the pasta is finished, add it to the bowl with the creme fraiche. Add half of the vegetables, and a 1/4 cup of the reserved cooking liquid. Toss very well. You probably wont need the extra 1/4 cup cooking liquid, but just reserve in case the pasta is dry. Add more liquid if needed.
Serve the pasta on plates and top with the remaining half of roasted vegetables and a heavy sprinkling of parmesan.