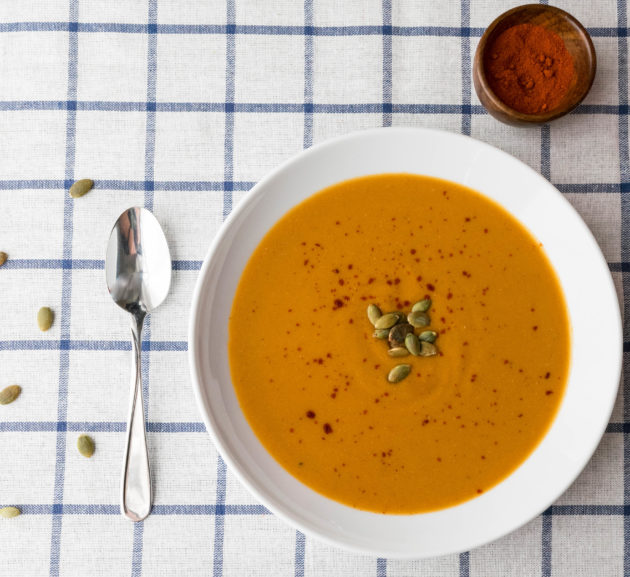 Ever since Phil and I have tried Ethiopian food, we have been in love. You would think it would be this food experience where you eat all these bizarre dishes that take getting accustomed to, it's not. Don't get me wrong; there are some unfamiliar foods like Injera (a sourdough spongey bread) or Kitfo (raw chopped beef), but really other than that, I was transported to my mother's and grandmother's kitchens. Comfort food at its best. Another thing that may take some getting used to is pretty much all dishes have some heat to them. You can't be a total wimp AND eat Ethiopian.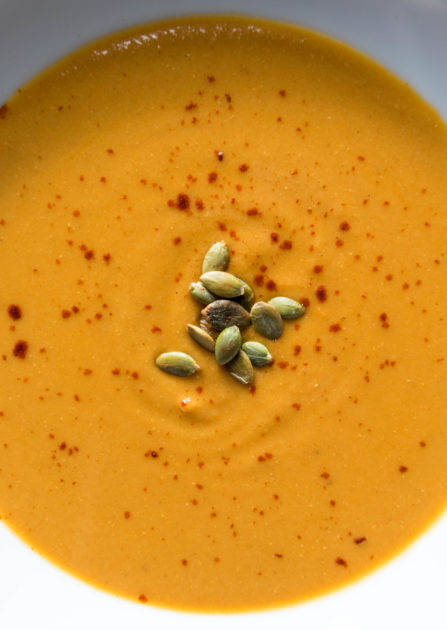 Berbere is a spice mix that is pretty much the base in a lot of Ethiopian dishes. It has a beautiful red color due to paprika and chiles and has heat, but also lots of flavor. This spice mix includes spices like garlic and ginger that I am familiar with, and some spices that I have never used before, such as anjwan and rue.  If you are a fan of garam masala, you need berbere in your life! The flavor is just as complex as garam masala.  When I saw it at the farmers' market I had to pick it up. Since we don't eat out these days, I thought it would be nice to make a dish that reminded us of our days going to our favorite Ethiopian restaurant here in Atlanta (Desta is the name). So far, I have made this soup and used this spice mix to flavor roasted vegetables (it is very versatile). Surprising, even Isaac loved this soup. This soup is perfect for this cold weather. It's spicy, creamy, full of flavor and filling. Everything you want a winter soup to be.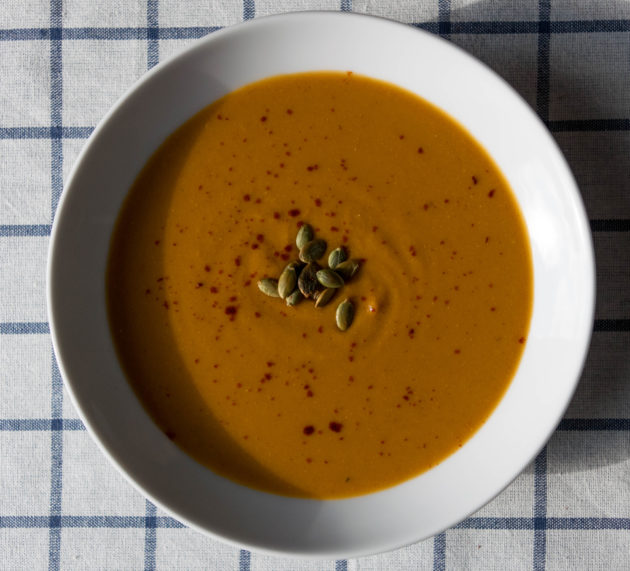 If you have never heard of Berbere or tried it, I definitely suggest seeking it out. You can put it on meats, vegetables, pretty much anything. Berbere is a spice that won't sit on the shelf.


Berbere Lentil Carrot Soup
2 1/2 cups yellow split lentils
6 medium carrots, chopped
1 red onion, chopped
3 cloves of garlic, chopped
2 tbsp berbere
2 tbsp butter
2 tbsp olive oil
2 – 32 ounce cartons of stock, chicken or vegetable
*salt to taste
roasted pumpkin seeds, for garnish (optional)
In a dutch oven, heat butter and olive oil over medium-high heat. Once hot, saute onions  about 3-4 minutes, or until they start to brown.
Add lentils, carrots, garlic and berbere and saute until fragrant 2-3 minutes. Add stock and bring to a boil. Once boiling, reduce heat to low, cover and simmer for 45 minutes, or until the carrots are tender and soup starts to thicken. Season with salt to taste.
At this point the soup can be served chunky  or if you prefer a smooth texture, use an immersion blender to puree. Serve with a sprinkle of roasted pumpkin seeds.
* The salt is to taste because most berbere contain some level of salt. The amount of salt may change depending on the brand or mix you buy.