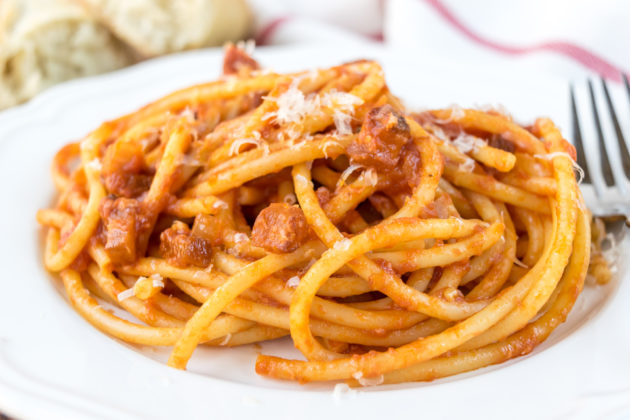 This has got to be our favorite pasta with red sauce recipe. The simplicity of it is beautiful. Who knew that something so delicious does not require a lot of work, just good ingredients. This dish is Italian and I have mentioned before, I love Italian food because of it's simplicity and appreciation for good quality ingredients. This recipe is everything I want in a pasta dish. It is so comforting and hearty. Everyone who we have made this dish for has loved it.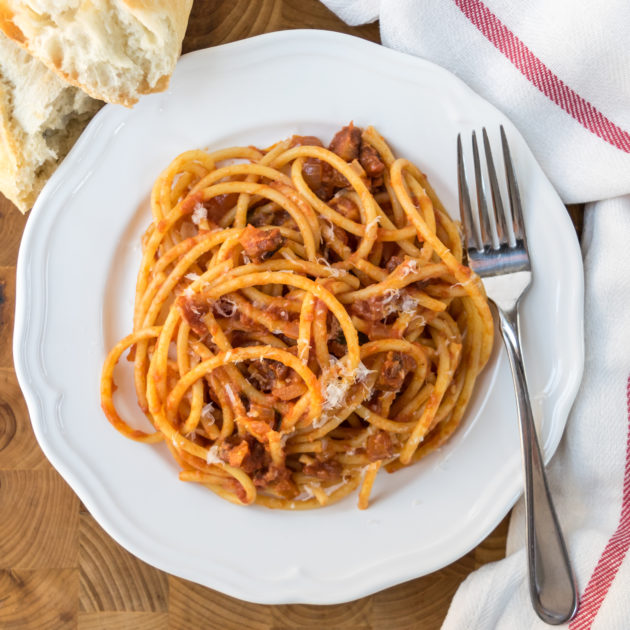 Bucatini is a much thicker version of spaghetti and is hollow. It is commonly served with Amatriciana, but I am sure you can put this sauce on any pasta you prefer. Now the sauce, Amatriciana is a rich tomato sauce made with guanciale. What makes this sauce so special, hands down is the guanciale (I am sure the hefty amount of parmesan cheese helps too). Guanciale is cured pork jowl (cheeks) and it gives this sauce a richness and depth of flavor that you can't get anywhere else. The guanciale has a different flavor than other pork cured meats. Some will and do use pancetta to make this sauce, and it does do okay in a pinch, but pancetta is very different from guanciale. Pancetta comes from the belly so the fat content and texture is different. Also, because guanciale is cheek meat it has a more porky flavor. The same way that beef cheeks have an incredible beef flavor. It seems any cheek meat that comes from an animal is destined for deliciousness.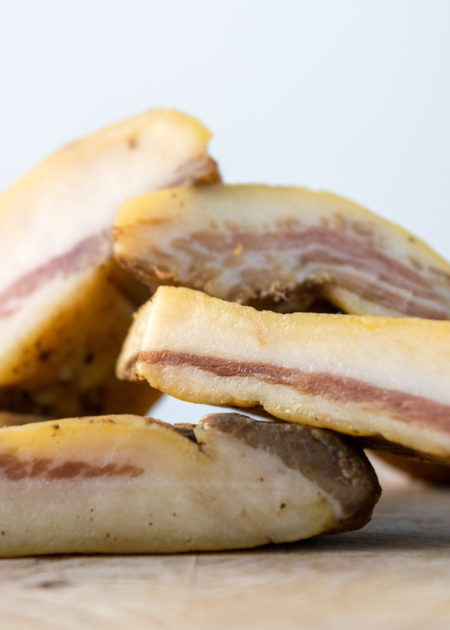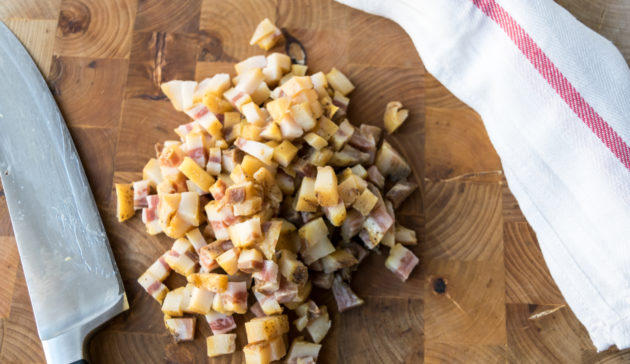 Hopefully the thought of pig cheeks doesn't scare you. I think foods like this are becoming more and more important as slow foods continue to gain in popularity. Finding ways to use the whole animal and enjoying them are crucial to this movement, which is also respect for the animals we eat.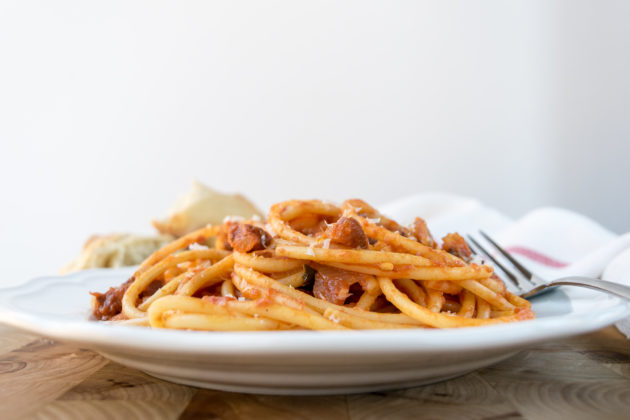 In Atlanta, we have a few butchers who are making foods like this a priority. We got our guanciale from Pine Street Market. Talk to a local butcher that cures their own meat; that will be the place you find guanciale. Also, don't think guanciale is only good for Amatriciana. You can use guanciale any place you want a depth of flavor without adding a ton of meat. One of my favorite cooks, Gabriele Corcos  just made a bean and tomato salad and added pieces of crisp guanciale to it. I am looking forward to trying that recipe!
Bucatini with Amatriciana
Servings: 4-6
Difficulty: easy
Recipe adapted from 
Anne Burrell
 From
Cook Like a Rockstar
1 tbsp extra virgin olive oil
8 ounces guanciale, chopped
kosher salt
2 medium onions, chopped
1 tsp crushed red pepper
2 garlic cloves, minced
2 – 28 ounces cans of San Marzano tomatoes, pureed in a food processor
6 basil leaves, torn
1 pound bucatini pasta
1/2 cup grated parmigiano-reggiano, plus extra for garnish
In a large saucepan, add olive oil and heat over medium-low heat. Add guanciale to the pan and cook until crispy and brown and most of the fat has rendered.  About 8-10 minutes.
Turn up heat to medium and add the onions, crushed red pepper, and garlic. Sprinkle with a teaspoon of kosher salt. Cook until the onions are soft, golden, and translucent. About 7-8 minutes.
Add the tomatoes and basil, and bring to a boil. Once boiling, turn the heat to low and let simmer for 1 hour (uncovered). After simmering for 1 hour, add salt to taste. Remove approximately 2 cups of the sauce from the saucepan and reserve. You don't want too much sauce tossed with the pasta. You can always add more sauce but you can't take it out. There should be an even ratio of sauce to pasta
Cook the pasta in salted water one minute less than the instructions suggest. Drain the pasta.  Add the pasta to the saucepan and toss well to coat, over medium heat for about two minute. You are doing this to finish cooking the pasta in the sauce and that will help marry the two together. Turn off heat and add cheese. Toss well and serve. Garnish with extra cheese.
*You probably will not need the reserved two cups of sauce, I never do. Either freeze or make more pasta! I really believe this sauce would be magic on a pizza. That may be what needs to happen with this extra sauce. Recipe coming soon.