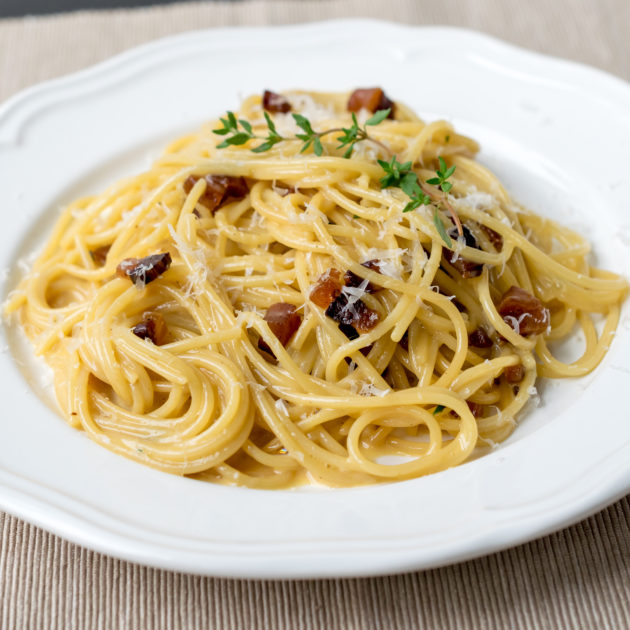 This is my farewell to spring and my hello to summer. It is officially getting hot here in Atlanta. Like all farewells this post is met with great emotion. Maybe a little dramatic, but I am a little sad that our rotation of cooler weather recipes will now be put on the shelf to make room for all the lighter dishes summer brings. Which if I am really being honest-I am somewhat excited about.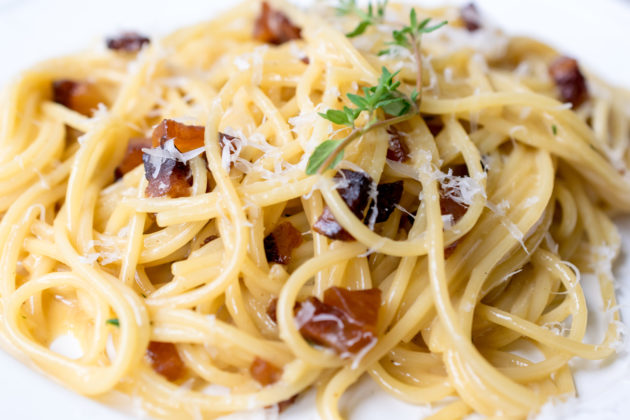 Recently this time of year has become bitter sweet for us. It used to mean beach! Since we are working to get out of debt, one of the things we have sacrificed is our yearly beach vacation to Destin, Florida (where we got married). Thankfully, this is the last summer we will spend working to get out of debt, so next year-this time, will mean beach! With our new normal, summer means popsicles, ice cream, spray parks, swimming, and dinner on our porch.  I am definitely thrilled about the food and inspiration summer brings. summer delivers salads, grilling, beautiful produce and amazing tomatoes!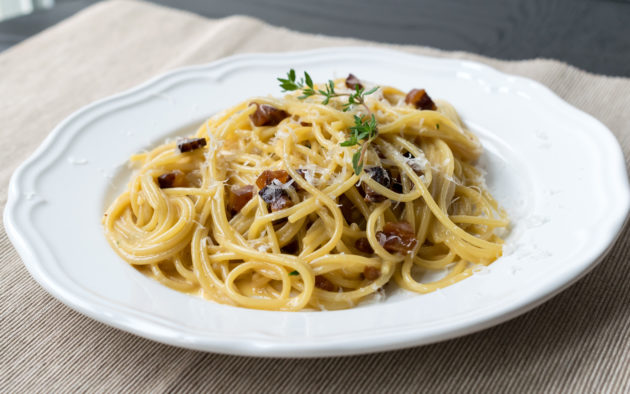 Since this is a farewell, I thought this recipe should be a worthy good-bye (or see you later as my mother says, never good-bye). Carbonara is definitely a dish worthy of a sayonara! This is a true Carbonara, only made with eggs and cheese (no cream) to make the rich creamy sauce the pasta gets tossed in. Since we are who we are, we use guanciale (we always have it on hand), but if pancetta is readily available, then by all means. I love thyme so much, and we always have some on the porch. I thought it would be a nice update to this classic.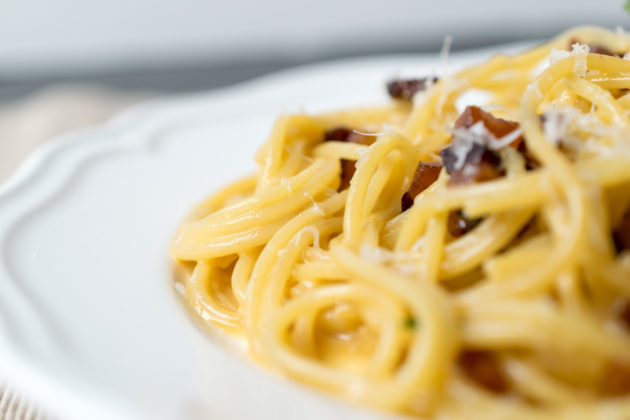 Thyme Spaghetti Carbonara
Ingredients
1½ tablespoons olive oil
⅓ cup guanciale, diced (alternatively diced pancetta)
2 garlic cloves, peeled and left whole
3 thyme sprigs
½ pound spaghetti
4 eggs
½ cup freshly grated Pecorino cheese
¼ cup freshly grated Parmesan cheese, plus additional for serving
½ teaspoon kosher salt
¼ teaspoon freshly ground black pepper
Instructions
Bring a a pot of salted water to a boil. In a large skillet, add olive oil and bring to medium heat. Once hot add the chopped guanciale. Cook until the fat has rendered and golden brown, about 7 to 9 minutes. Add the garlic and thyme sprigs, cook an additional 2 minutes, or until slightly brown and fragrant. Remove the pan from the heat.
Add the pasta to the boiling water, and cook until al dente. About 1 minute less than the package recommends.
When the pasta is just about finished, bring the pan with the guanciale back to medium heat. Remove the garlic and thyme sprigs. Drain the pasta well and add it to the pan. Toss the pasta to coat in the fat. Once coated well, remove the pan from the heat.
Add the egg and cheese blend to the pasta and with a pasta spoon, immediately stir vigorously to combine, about 30 seconds. Cover and let sit for 2 minutes so the steam can cook the eggs. Uncover and stir again. The mixture will resemble a cream sauce. Serve immediately with freshly grated Parmesan.