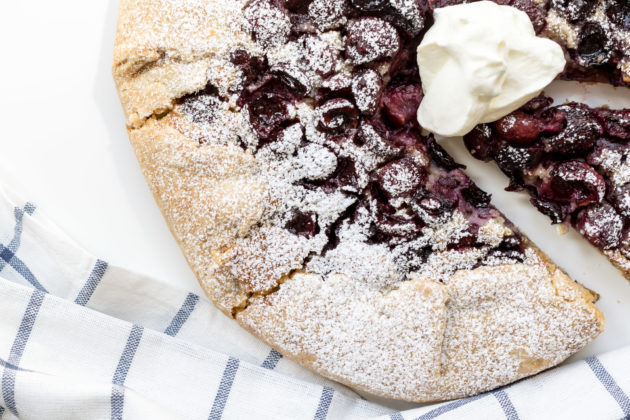 Ever since our trip to France, we have a love affair with French desserts. Macaroons, eclairs, tarts, it doesn't matter, this family loves it! The only problem I have with French desserts is they are not the easiest to make at home. That is why galettes are a dream!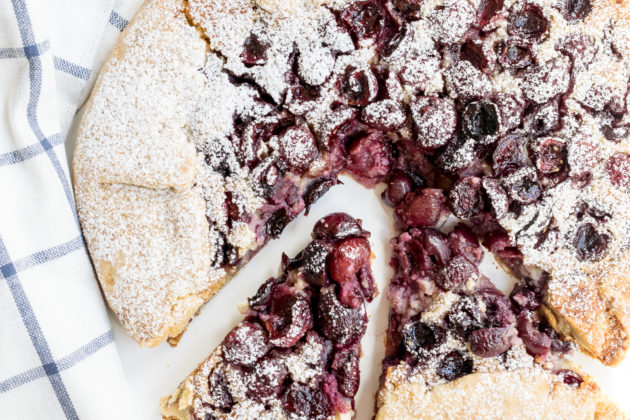 Galettes are free form and are very forgiving. The dough is rolled out flat, filling placed in the middle, then the sides are folded around the filling. When you can't be bothered to make a tart or feel like pleating a pie, this is the answer. This is a simple staple that everyone should have in their back pocket. You can fill with whatever fruit is in season or with veggies for a savory galette. Feel free to switch out the cherries for any fruit of your preference.
To make this galette a little more interesting and to play off the cherries, I smeared a layered of frangipane (also very French) at the bottom of the crust. Frangipane is a filling made with almonds, almost like an almond cream. It is made with butter, ground almonds, eggs, sugar and a little bit of flour to bind it. This frangipane is a wonderful combination with the fresh, juicy cherries. I actually learned about frangipane almost a year ago. I only heard about it and didn't know what it took to actually make it. After doing some research, I have to say I was surprised to learn how easy it was. Don't let the word "frangipane" scare you, you can make this!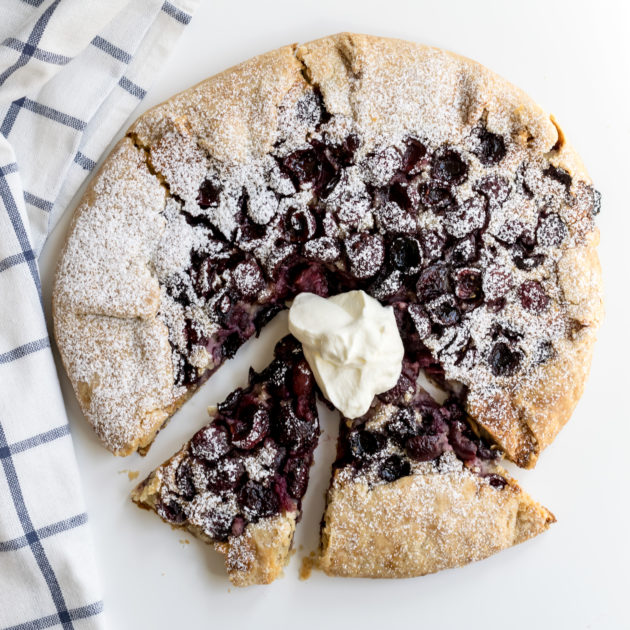 Cherry Frangipane Galette
Crust:
1 1/4 cups unbleached all-purpose flour
1/2 tsp kosher salt
1 1/2 tsp granulated sugar
1 stick (1/4 pound) cold unsalted butter, cut into 1/2-inch pieces
1/2 cup cold water
1 tablespoon cider vinegar
1/2 cup ice
Cherry Filling:
4 cups pitted cherries, sliced (about 1 1/2 pounds)
1/2 cup sugar
zest from 1/2 a lemon
1 vanilla bean, seeded
Frangipane:
*1/2 cup blanched slivered almonds
1/2 tbsp flour
1/4 cup sugar
4 tbsp (1/2 stick) unsalted butter, at room temperature
1 egg
1/2 tsp vanilla extract
Crust:
In a food processor combine flour, salt, and sugar. Pulse to combine. Add butter and pulse until butter is pea size. In a large measuring cup or small bowl combine water, vinegar and ice. Add 2 tablespoons of ice water mixture to the food processor and pulse. Add one or more tablespoon of ice water at a time until the mixture becomes a ball with some dry bits remaining.
Shape the dough into a round disc, cover with plastic wrap and refrigerate for at least one hour or more.
Cherry Filling:
In a bowl, add the cherries, sugar, lemon zest, and vanilla bean seeds. Stir and let sit to macerate for 30 minutes.
Frangipane:
In a food processor, grind the almonds, flour, and sugar to a rough powder. Add butter and pulse until incorporated. Add eggs and vanilla extract, and process until smooth and creamy.
Assemble:
Preheat oven to 375°
On a floured work surface roll out the dough to a 1/4″ thickness. Don't worry if it is not a perfect circle (this is the joy of making a galette). Transfer the dough to a sheet pan. Spread the frangipane onto the dough in an even layer, trying to leave about a 1″ border. Using a slotted spoon, remove the cherries from the liquid and spoon the cherries onto the frangipane. Fold the 1″ border over the sides, enclosing the frangipane and cherries.
Bake for 45 minutes. Allow to cool before slicing. Top with powdered sugar and serve with fresh whip cream!

*Alternatively you can use ground almonds and use a mixer to make the frangipane, instead of a food processor.