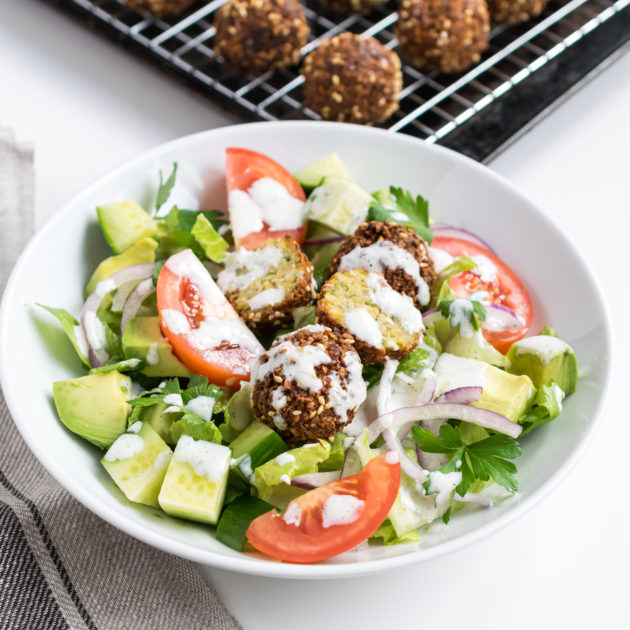 So we made the falafels…..now how do we make them into a meal? Normally  falafels are traditionally served with pita. Which, I think it is a delicious combination. I mean, who doesn't love carbs!  Unfortunately in our house, we try to avoid bread. Sad, I know. Now, I am not saying we don't eat bread, we do. But where we can cut it out, we try to.


I thought a really nice salad would hit all the flavors and texture cravings, so we would not miss the bread (or meat) and still be filling. We put some of our favorite things into this salad, but feel free to switch it up. Another plus about this salad is that I made the dressing with Greek yogurt. That adds more protein and additional flavor.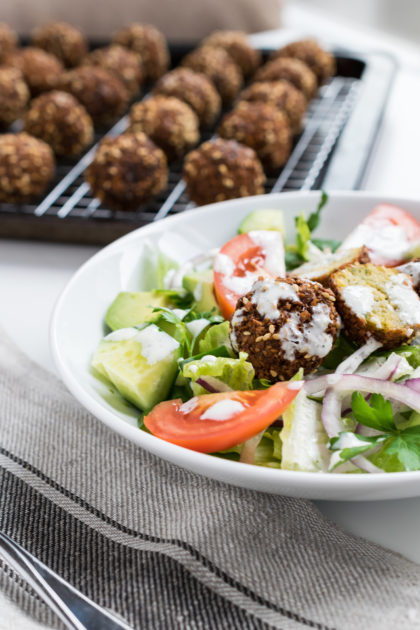 Falafel Bowls
Ingredients
2 heads of romaine lettuce, chopped
2 avocados, chopped
¼ of a small red onion, sliced thin
2 tomatoes, chopped
fresh parsley leaves
12 falafels (recipe here)
Greek Yogurt dressing:
1 cup whole milk Greek yogurt
1 tsp white wine vinegar
1 tbsp olive oil
1 tbsp chopped mint
juice of 1 lemon
1 tsp salt
few grinds of pepper
Instructions
Place all the ingredients for the yogurt dressing in a food processor and process until smooth. Alternatively, this can be whisked together.
Arrange and divide the lettuce, avocado, tomatoes,and red onion onto 4 plates. Sprinkle with parsley leaves and top each salad with 3 or 4 falafels. Drizzle with yogurt dressing. Serve.