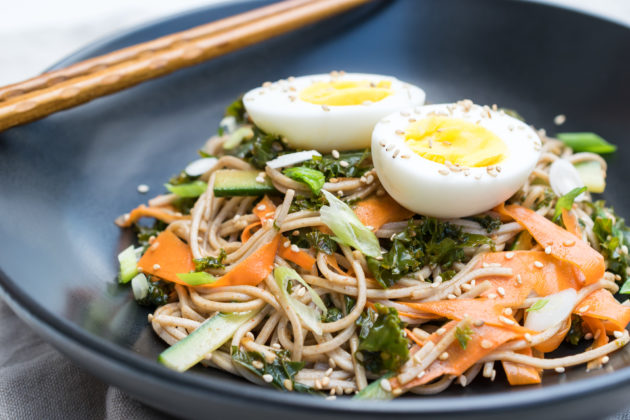 This recipe is the embodiment of everything I love about Asian food. Noodles, check. Spicy, check. Vinegary, check. Subtle sweetness, check! I have had this recipe in my mind now for almost a year. Maybe I shouldn't say recipe, but this idea of what ingredients I wanted to use and what it would taste like. It all started with the sauce from the pajeon (seafood pancakes) and my mother's kale salad that got my mind going.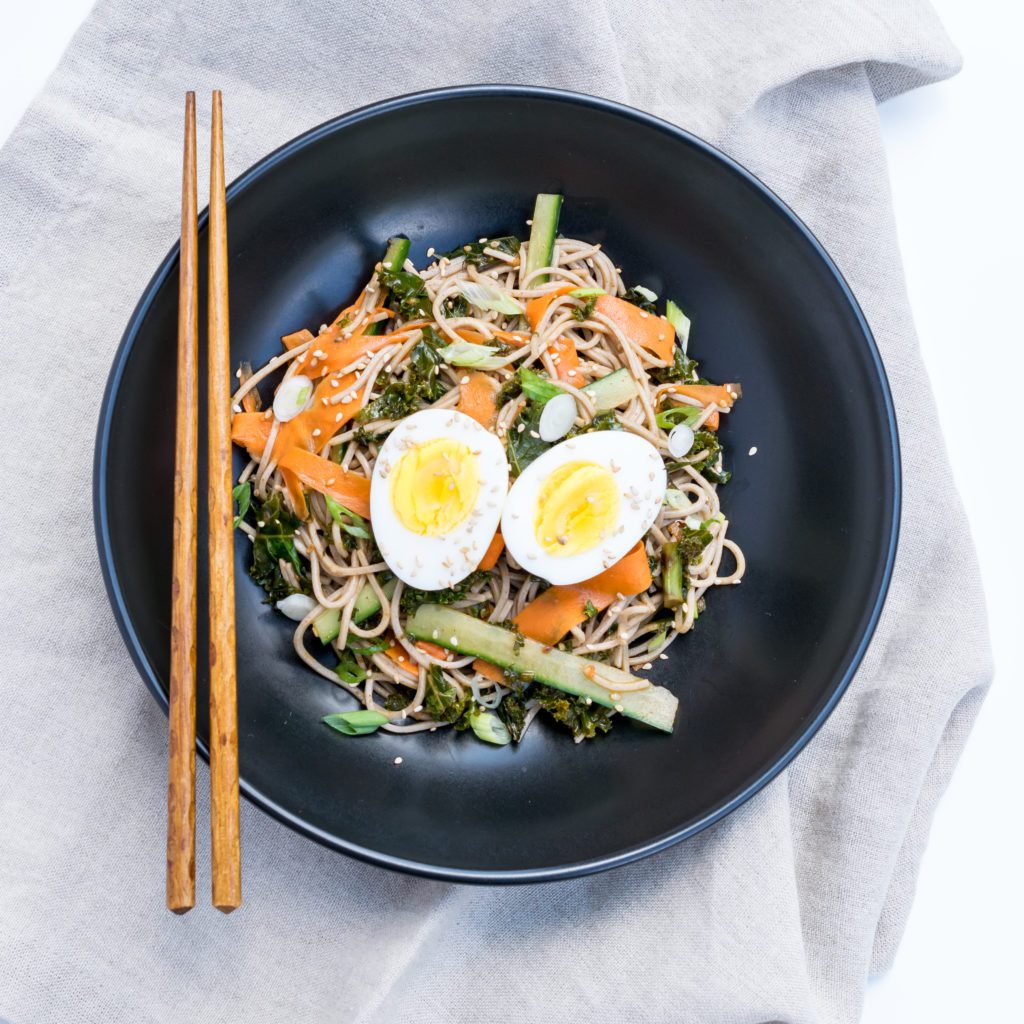 Kale is wonderful in a sense that it will stand up to whatever you put it with. You don't even have to cook it, just toss it with some vinegar and will wilt beautifully as if you did cook it. When my mother tried the sauce from the pajeon pancakes, she told me ,"This would be wonderful with kale as a salad." I thought, oh I could add some soba, and some other veggies and it could be a total meal. I added quick pickle carrot ribbons because I wanted to amp up the sweetness and add another layer of flavor. The carrots are not just sweet, but are also slightly spicy. I used cucumbers to add crunch and a refreshing bite. The soba noodles add a nutty flavor, that rounds out all the veggies. This dish is layers, upon layers of flavor. There is a complexity created just by adding different flavors and texture. That is exactly what I love about Asian food!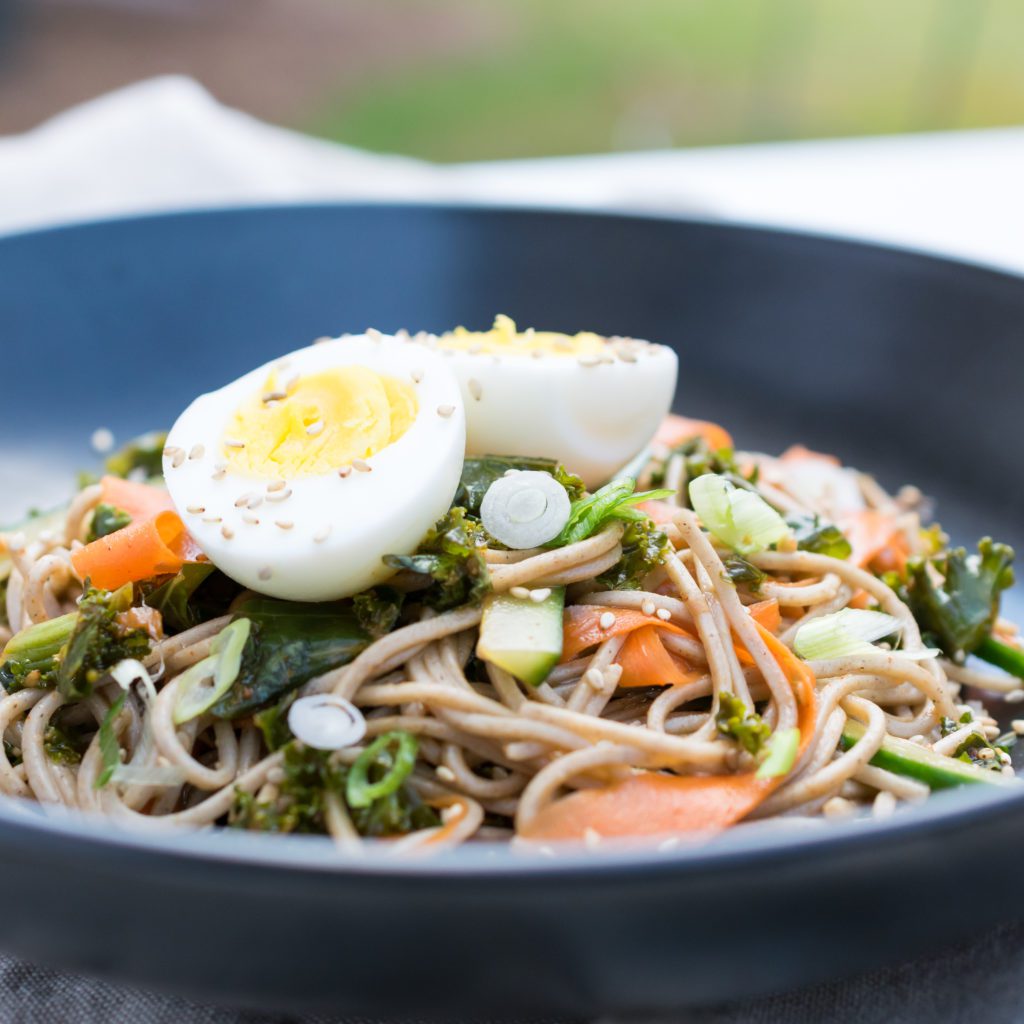 Marinated Kale with Buckwheat Noodles
Ingredients
Kale:
4 tbsp soy sauce
2 tbsp rice vinegar
1 tbsp gochugaru (Korean chile flakes)
1 tbsp sesame oil
1 tbsp roasted sesame seeds, crushed
2 scallions, finely chopped
5 cups packed finely chopped kale leaves (try to leave out the woodsy stems)
Pickled Carrots:
2 carrots, shaved with a vegetable peeler
4 tbsp rice vinegar
2 tbsp sugar
2 tsp salt
¼ cup water
1 Serrano, sliced lengthwise
Instructions
Kale:
In a small bowl, whisk together the soy, rice vinegar, sesame oil and seeds, and scallions. Place the clean kale in a large bowl, add the sauce and mix very well. Allow to sit for at least 45 minutes.
Pickled Carrots:
Place the carrot ribbons and Serrano in a glass jar (or container) with a lid. In a small bowl, whisk together rice vinegar, sugar, salt and water. Pour the pickle mixture over the carrots and allow to sit for at least 45 minutes.
Assembly:
In a large bowl, toss together the soba, cucumber, kale, and carrots (removed from their pickling liquid). Place the noodles and vegetables into 4 bowls and top with a hard boiled egg and sprinkle with sesame seeds. Served.
*If the noodles and veggies are a bit to dry for you, spoon a little of the pickling liquid from the carrots over it to make it a bit more saucy.
Notes
The marinated kale and pickled carrots need some time to sit, so plan ahead.