This Jalapeno Corn Cheese is total fat kid food. Super indulgent, feels oh so wrong but is oh so right. You would think that all these ingredients don't go together. Au contraire, they are actually magic together! Also, this dish is super easy to put together which is another win.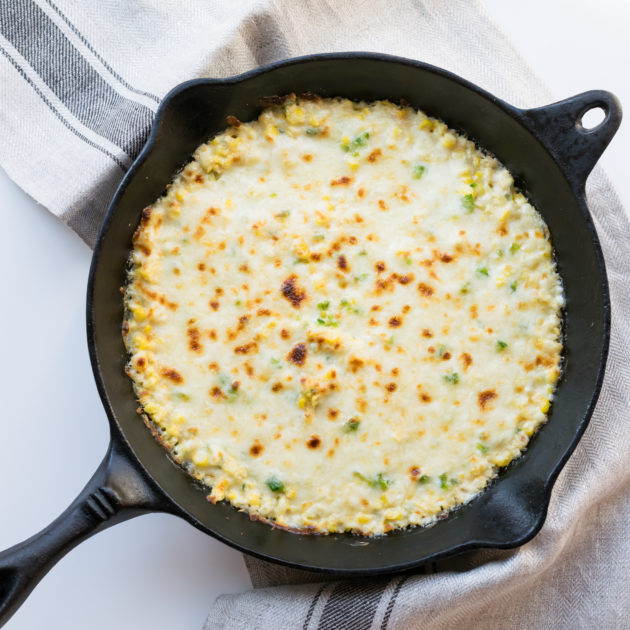 The first time we tried this was at a Korean restaurant, while having BBQ and lots of Hite! I thought "corn and cheese, what an odd combination." I was wrong once I tasted the sweet corn and the creamy melty cheese together. I was thrilled to find a recipe for it in the 101 Easy Asian Recipes. Since I love bold flavors, I tweaked the recipe by adding chopped jalapenos. I think the spice provides a nice bite, that cuts through the creaminess.  If you like corn and you like cheese, this dish is a no brainer. You will love them together.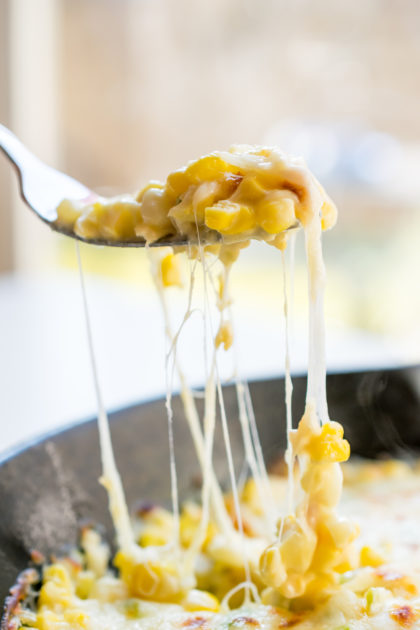 Jalapeno Corn Cheese
Ingredients
2 tbsp butter
3 cups frozen corn kernels (or kernels cut from 4 ears of corns)
¼ cup chopped jalapenos, seeds removed
4 oz cream cheese
1 tbsp white miso paste (optional)
1 tbsp mayonnaise
1 cup shredded mozzarella cheese
Instructions
Heat the oven to 450°
Heat a large cast iron pan or large skillet over medium heat. Add the butter, once melted add the corn and jalapenos and toss to coat. Cook for 2 to three minutes or until heated through. Add the cream cheese and miso. Stir and press the cream cheese with a back of a spoon until it melts and the corn is coated. Stir in the mayo and mix until all is creamy and smooth.
If using a skillet, transfer mixture to a baking dish big enough for the corn to be in a ½ inch to one inch layer. If using cast iron, no need to transfer since it can go straight into the oven. Sprinkle the cheese evenly over the top. Bake for 5 to 7 minutes or until brown and bubbly. Serve hot.