When the weather grows colder our family (like I am sure everyone else's) craves comfort food. Saying good bye to loads of fresh veggies and cold meals and hello to decadence. For us, comfort food is cheese and carbs and in this house that is decadence. This grilled cheese and pickled scallion is a recipe that we come back to every year once fall arrives.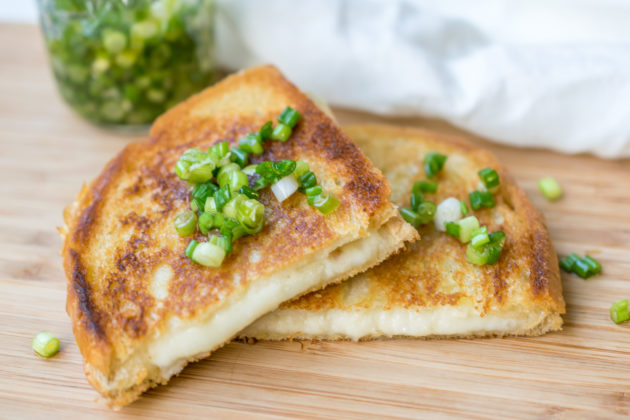 The sandwiches are filled with mozzarella cheese and drizzled with olive oil flavored with fresh herbs, garlic and red pepper flakes. I love mozzarella in a grilled cheese sandwich because of the creamy stretch, you know that glorious cheese pull? With that being said, mozzarella is pretty bland to put in a grilled cheese by itself. The oil provides a giant dose of flavor that pairs perfectly with the creamy mozzarella. Now, a bit about the pickled scallions. They may sound totally weird on top of a grilled cheese, but they work! They provide an onion flavor and zing because of the red wine vinegar. With all the creamy and crispy from the sandwich, I love the bite the pickled scallions offer. Its almost like the sandwich comes full circle on a sandwich wheel.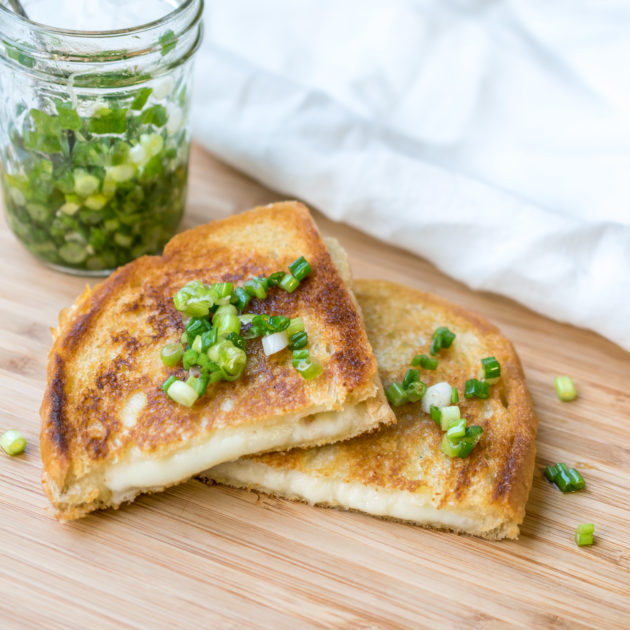 Have I convinced you to make these yet? Great. There is something to note…these are a total make ahead! As in make these the day before you want to eat them! These are assembled then pressed between two plates or sheet pans overnight. Pressing these sandwiches overnight causes the bread to compress and results in the cheese and bread becoming one. This makes for an amazing grilled cheese, one like you have never had before. Since the bread is flatter, it cooks more evenly and results in a deliciously crispy exterior. Also, letting the sandwich sit overnight allows the flavors to meld together.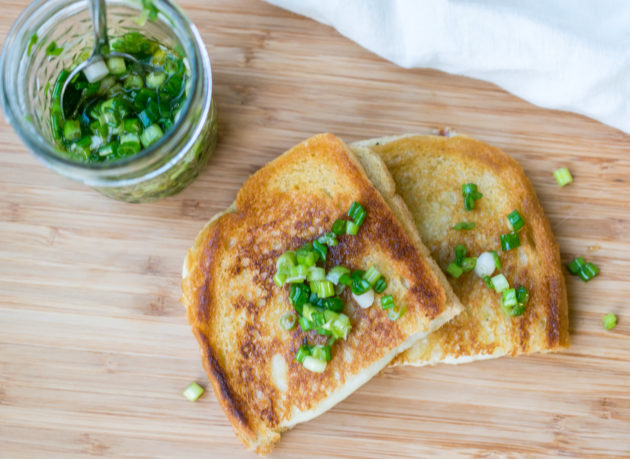 Grilled Cheese with Pickled Scallions
Ingredients
Grilled Cheese Sandwich
6 tbsp of olive oil, divided
½ tsp red pepper flakes
2 cloves of garlic, grated or pressed
3 sprigs fresh thyme, woodsy stems removed and leaves minced
½ sprig of rosemary, stems removed and leaves minced
8 slices of sourdough bread
16 ounces of fresh mozzarella, cut into 16 slices
salt and freshly ground black pepper
2 tbsp butter
Pickled Scallions
8 scallions, roots trimmed and chopped into thin rounds
3 tbsp red wine vinegar
1 tbsp olive oil
Instructions
In a small bowl, stir together 2 tbsp of olive oil, red pepper flakes, garlic, thyme and rosemary.
On a flat surface lay out 4 slices of bread. Dry off any moisture on the mozzarella and place 4 slices on each of the 4 slices of bread. Drizzle with the oil mixture. Sprinkle with salt and pepper to taste. Cover the cheese with the remaining 4 slices of bread.
Arrange them in a single layer on a baking sheet or large plate and cover them with a baking sheet or plate to weigh them down. Refrigerate the sandwiches overnight.
Preferably an hour or two before (can be done the day before) make the pickled scallions. In a small bowl, combine the scallions red wine vinegar and olive oil. Sit aside until ready to use.
Heat a large skillet (I highly recommend cast iron) over medium heat. Once hot add 2 tbsp of olive oil and 1 tbsp of butter. Add two sandwiches and cook about 3-4 minutes or until golden brown. Turn and cook the other side until golden brown. Once done, remove the cooked sandwiches and transfer to a plate. Add the remaining 2 tbsp of olive oil and 1 tbsp of butter to the pan and cook the last two sandwiches until golden brown. Cut the sandwiches in half and top with the pickled scallions. Serve immediately.

More recipes using
mozzarella
!