We have reached a historical moment in blogging! This is our 100th post!!! It's only right that we mark this occasion with what we do best, chicken! Spicy Lemongrass Grilled Chicken to be exact (just in time for BBQ season). With all the chicken recipes we have, it would seem we are the chicken whisperers. This is also probably the result of having a three year old who loves chicken and trying to find ways to change it up! Okay, so hopefully I didn't scare you away with the Lemongrass part, but this recipe is Vietnamese inspired, so it may require you to go out of your comfort zone. Don't be afraid, you will be rewarded with the most juicy flavorful chicken!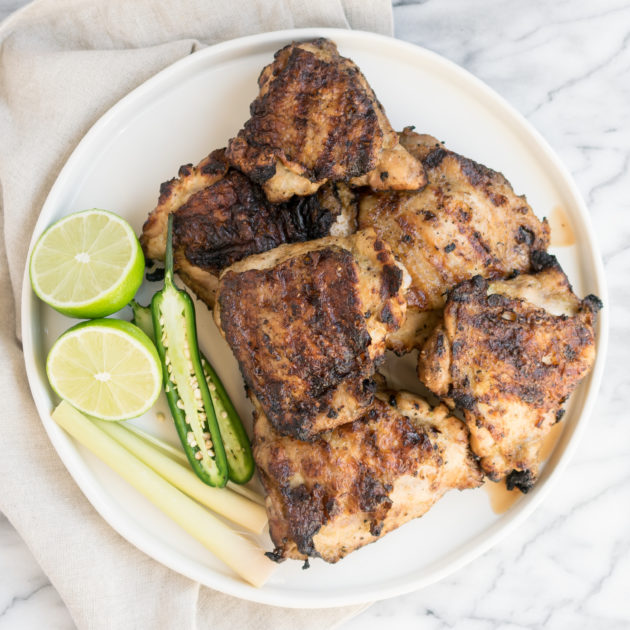 You may not be familiar with lemongrass, but it is an herb used all over Asia and has a subtle citrus flavor, very fragrant, almost floral. Most Asian grocery stores carry it, and stores like Whole Foods and Sprouts also carry it. Check out your grocery stores packaged herb selection, because you may be able to find it there too. This herb is definitely worth seeking out, because of the unmatched flavor it provides. Lemongrass requires a bit of preparation if you are buying the whole stalk, check out this tutorial here to get it ready for the marinade. There is also fish sauce in this recipe, and if you are new to this blog then you probably don't know that in a previous post I have made a strong case as to why this needs to be in everyone's pantry. Please do not be afraid of fish sauce.  It equals flavor!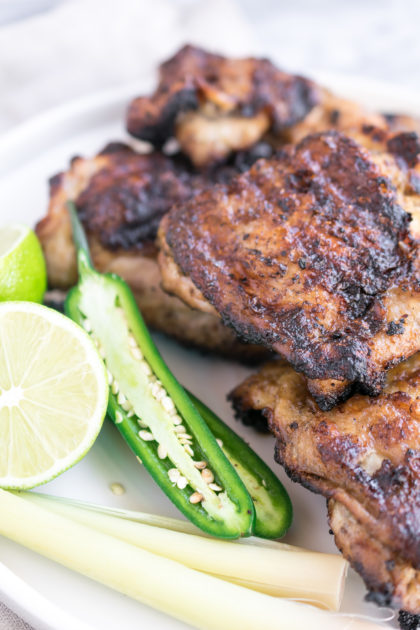 Spicy Lemongrass Grilled Chicken
Ingredients
1 lemongrass stalk (about 3 tbsp chopped)
1 medium shallot, roughly chopped
3 cloves garlic, roughly chopped
1 large serrano, roughly chopped (remove the seeds to make it less spicy)
2 limes juiced, about ¼ cup
2 tbsp fish sauce
1½ tbsp brown sugar
1½ tbsp soy sauce
¼ cup grapeseed oil (or any neutral flavored oil)
6 chicken thighs (about 3 pounds total)
½ tsp salt
Instructions
In a medium bowl combine, lemongrass, shallot, garlic, Serrano, lime juice, fish sauce, brown sugar, soy sauce and grapeseed oil. Puree the marinade using an immersion blender. Alternatively, these ingredients, can be pureed in a food processor or blender. You want to make sure the lemongrass, garlic, and Serrano get totally pureed, otherwise chunks in the marinade could burn on the grill.
In a gallon size freezer bag, add the chicken and pour the marinade over it. Seal the chicken and smoosh the marinade around the chicken. Sit the freezer bag in a baking dish to keep any accidental spillage from happening. Place in the refrigerator and marinate for at least 6 hours or overnight.
minutes before grilling, remove the chicken from the refrigerator. This will help take the chill off and allow the chicken to cook more evenly.
Preheat the grill to medium-high heat. Remove the chicken from the freezer bag and discard the used marinade. Pat the chicken dry with paper towels and sprinkle the top of the chicken with a ½ tsp of salt. Drying the chicken and sprinkling it with salt will help the chicken skin crisp up on the grill.
Once the grill is hot, starting with skin side down, grill the chicken for 10- 12 minutes on each side or until the internal temperature reaches 165 degrees.
Like this recipe checkout our other chicken
recipes here
.