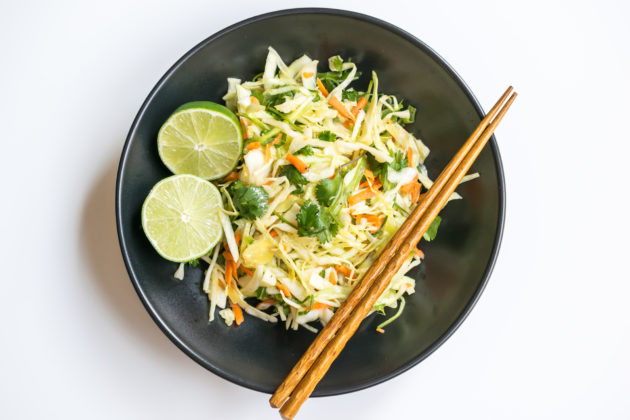 I was not actually going to share this recipe, but we received such great response on Instagram I had to. We have been making this recipe for years, it is our go to slaw recipe. Super refreshing and takes literally 15 minutes to prepare. Chopping the vegetables is what will take you to 10 minutes, the other 5 minutes is preparing the dressing and tossing it all together. Done and done!
This Asian slaw has all the flavor profiles you could want: salty, sour, a little heat, and sweetness from the carrots. The rice wine vinegar gives it a little zing that pairs perfectly with the cabbage. Honestly, this slaw probably eats more like a salad than anything. The other great part is that it is super healthy, in comparison to most slaw recipes. Oh and this is totally a very cheap eat. You're welcome.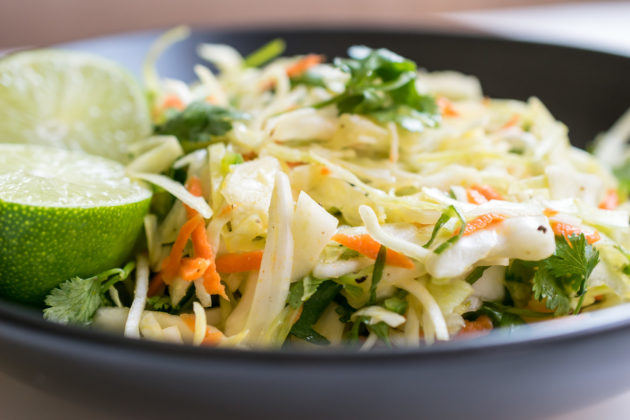 Asian Slaw
Adapted from Martha Stewart's Asian Cabbage Slaw
Ingredients
4 tbsp fresh lime juice
4 tbsp rice vinegar
4 tsp sugar
1½ tsp salt
2 tbsp grapeseed oil, or any neutral flavored oil
1 small head of green cabbage, shredded
1 bunch cilantro leaves
8 scallions, cut into match sticks, (or chopped if you can't be bothered with that)
2 carrots, grated
1 jalapeno, minced (seeded or de-seeded your choice)
Instructions
In a large bowl, whisk together the lime juice, rice vinegar, sugar, salt and oil. Add the cabbage, cilantro, scallions, carrots, and jalapenos.
Notes
*Don't let the serving size scare you. This recipe easily can be reduced by half. This also makes for a great potluck recipe since it does not need to be refrigerated.