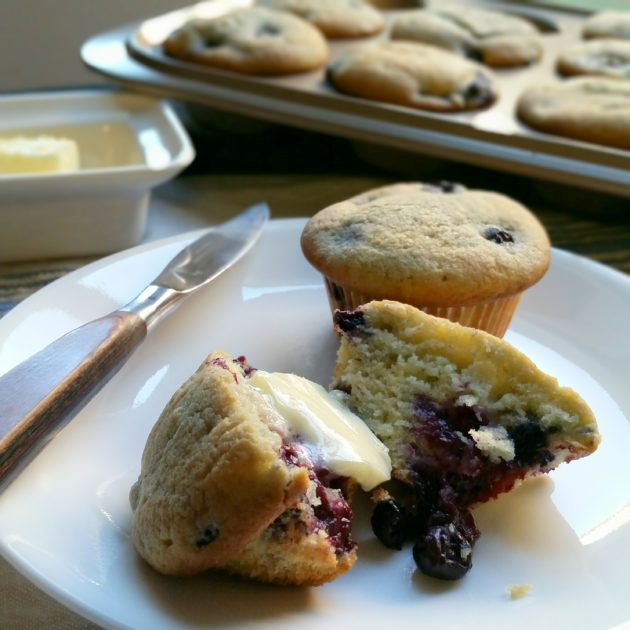 This is our family's favorite blueberry muffin recipe. Our son love's muffins these days and was asking for some so I decided to make these for him this past weekend. There's nothing like having these fresh blueberry coffee cake muffins on a Saturday morning with a nice hot cup of coffee. This is comfort food at its best. These muffins are very moist, not super sweet, and a little rich. There's nothing like taking one of these just out of the oven and slathering it with a pat of butter. The buttery richness is in perfect balance with the tartness of the blueberries. These muffins are easy to make and are great any time of year. You can use fresh or frozen blueberries but fresh is preferred, especially if you can pick your own.

It is an adapted Ina Garten recipe.  My wife is a big fan of  Ina and we have accumulated all of her cookbooks over the years. She has many recipes that we use on the regular, like her Perfect Roast Chicken.
Give these a go. If you like blueberry muffins I assure you that you won't be disappointed. This recipe may end up being your family's favorite as well.
Blueberry Coffee Cake Muffins
Ingredients
1½ sticks of butter, unsalted at room temperature
1½ cups sugar
3 large eggs, at room temperature
1½ tsps pure vanilla extract
1 cup sour cream
¼ cup whole milk
2½ cups all purpose flour (unbleached preferably)
2 teaspoons baking powder (aluminium free preferably)
½ tsp baking soda
½ tsp kosher salt
2 half pints of blueberries (about two cups fresh or thawed if frozen)
Instructions
Preheat oven to 350ºF
Line muffin tin with paper muffin cups
In the bowl of an electric mixer fitted with the paddle attachment, cream the butter and sugar until light and fluffy, about 5 minutes.  With the mixer on low speed add the eggs 1 at a time, then add the vanilla, sour cream, and milk. In a separate bowl, sift together the flour, baking powder, baking soda, and salt. With the mixer on low speed, add the flour mixture to the batter and beat until just mixed. Fold in the blueberries with a spatula and be sure the batter is completely mixed. It's very important that you fold in with the spatula.
Scoop the batter (use a standard ice cream scoop if you have one) into the prepared muffin pans, filling each cup just over the top, and bake for 25 to 30 minutes, until the muffins are lightly browned on top and a cake tester comes out clean.