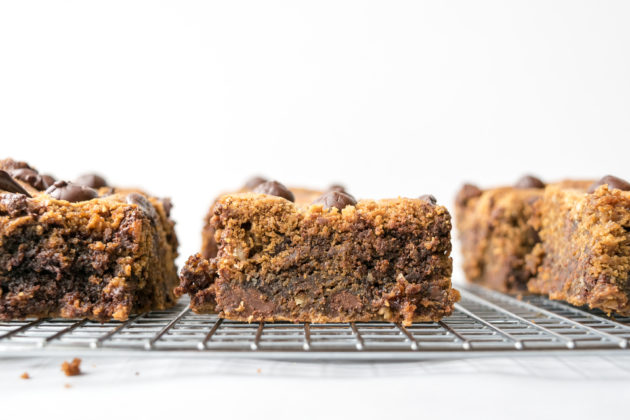 I asked my husband what his favorite dessert was. He struggled to give me one answer, but I finally got him to admit that brownies top the list. For Valentine's Day, I attempted to make brownies from scratch, which I don't do very often. I used a Peanut Butter Swirl Brownie recipe and I don't know if it was the peanut butter or the fact that it called for unsweetened chocolate, but they were awful and dry. Brownie fail!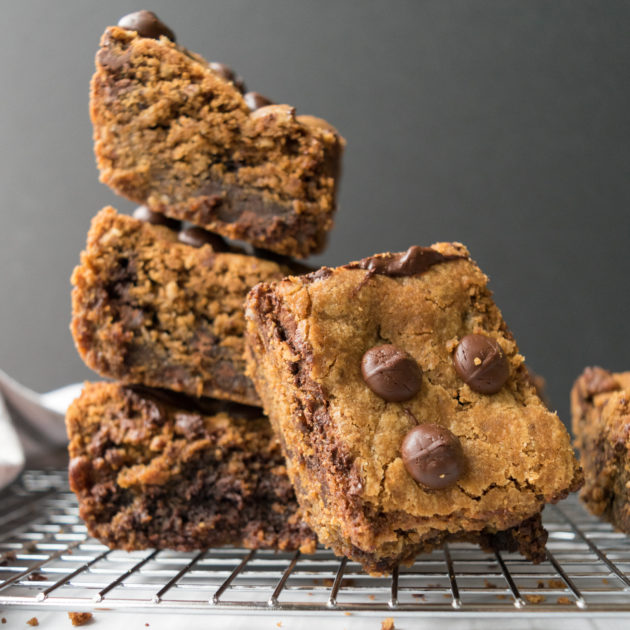 Needless to say, it left us both craving a really good brownie. Really, what I wanted was something with a brownie consistency but not all chocolate. Blondies were the answer! Lately, I have been experimenting with using organic cane sugar in places where I would use regular sugar. I have to admit all experiments have not gone well. Organic cane sugar provides a lot of moisture to whatever you are baking. The recipes where I found it  works best is  any place you want a chewy interior. That is why organic cane sugar is just magic in this recipe, because we all know a blondie is just the result of a chocolate chip cookie and a brownie having a baby.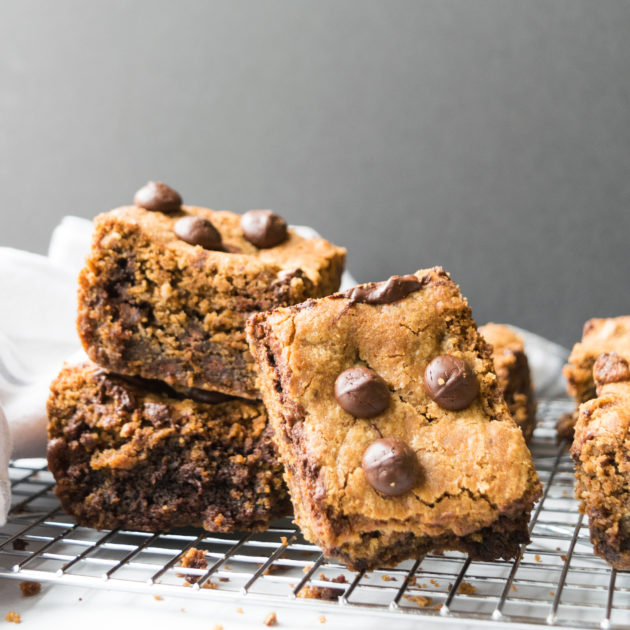 The organic cane sugar and chopped pecans give these blondies a toffee like flavor. When you mix that with chocolate chips–pure perfection! Not to mention the texture was insanely delicious! Moist and chewy on the inside and crisp on the outside. I cannot wait to make these again. Mind blown! I know the use of three sugars may seem a bit obnoxious or even annoying, but it does make a difference and provides an amazing texture. Seek out the organic soft whole cane sugar, you will not be disappointed! Here is a more information about organic soft whole cane sugar.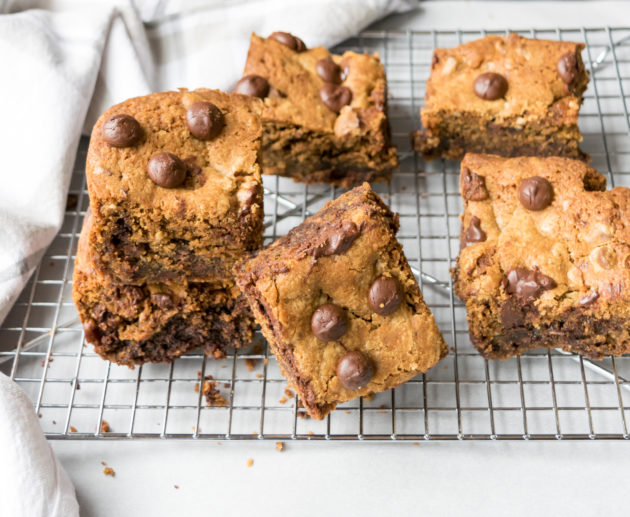 Chocolate Chip Blondies
Adapted from Ina Garten found in the Barefoot Contessa Foolproof cookbook.
Ingredients
2 sticks (1 cup) unsalted butter, room temperature
¾ cup organic soft whole cane sugar
½ cup light brown sugar
¼ white granulated sugar
2 eggs, room temperature
2 tsp vanilla extract
2 cups all purpose flour
1 tsp baking soda
1 tsp salt
¼ cup finely chopped pecans
1 cup bittersweet chocolate chips, (1/4 cup separated for topping)
¼ cup milk chocolate chips
Instructions
Preheat oven to 350. Grease an 8 x 8 square pan.
In a large bowl or stand mixture, cream together the butter and sugars until light and fluffy. While mixing, add the eggs one at a time and the vanilla. Scrape down the bowl.
In another bowl, sift together the flour, baking soda, and salt. Add the flour mixture to the butter mixture. Mix well. Fold in ¾ cups of the bittersweet chocolate, milk chocolate chips and pecans.
Bake for 40-45 minutes or until a toothpick comes out clean. As soon as removing from the oven, sprinkle the remaining ¼ cup of bittersweet chocolate chips on top. Allow to cool and serve.