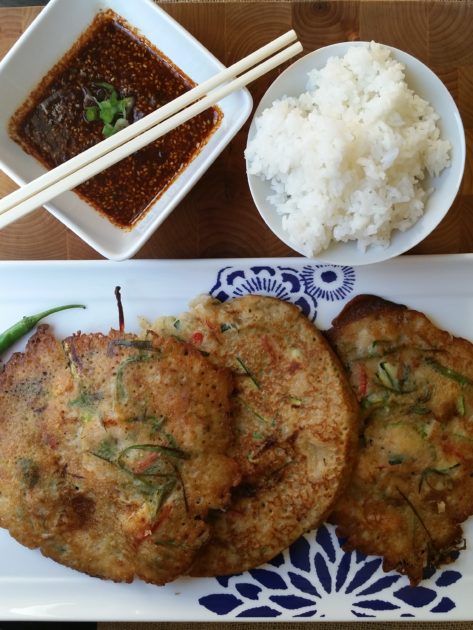 Our obsession with Asian food continues. There are so many flavors to explore. These Korean Seafood pancakes were fairly easy to make and the sauce is amazing! Traditionally they are soft and mainly the texture comes from the filling. These pancakes are crispy and crunchy! Which make for an insanely delicious pancake. As I mentioned, the sauce is awesome and has so much flavor! I think the sauce is my new ketchup! It is better than Sriracha! We're already thinking of ways to incorporate this sauce into other dishes. Shrimp and Clams were on sale at Sprouts and we've been wanting to make these ever since we went to Woo Nam Jeong Stone Bowl House on a recommendation. I'll admit it was pricey for these two budget strict people but I don't regret going. Thankfully we had a visa gift card to use (only we go to a Korean restaurant when we finally have money to blow).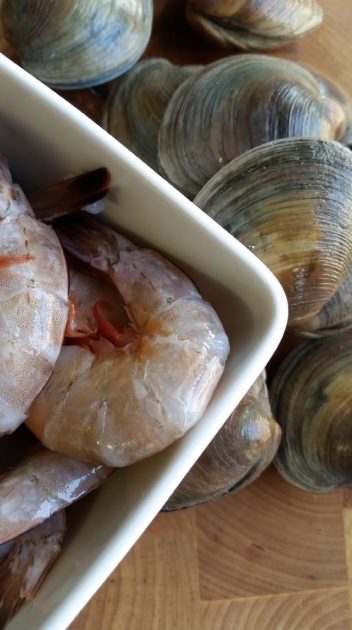 We decided to use fresh clams because that's what was on sale, so we had to cook them first to get the meat out.
If you have spent any time making different Asian dishes, regardless of origin, they seem to have a billion ingredients. Mostly vegetables that need to be chopped or julienned or diced or whatever. It can be time consuming to say the least. Alas this dish is not. There are only a few veggies to chop and julienne.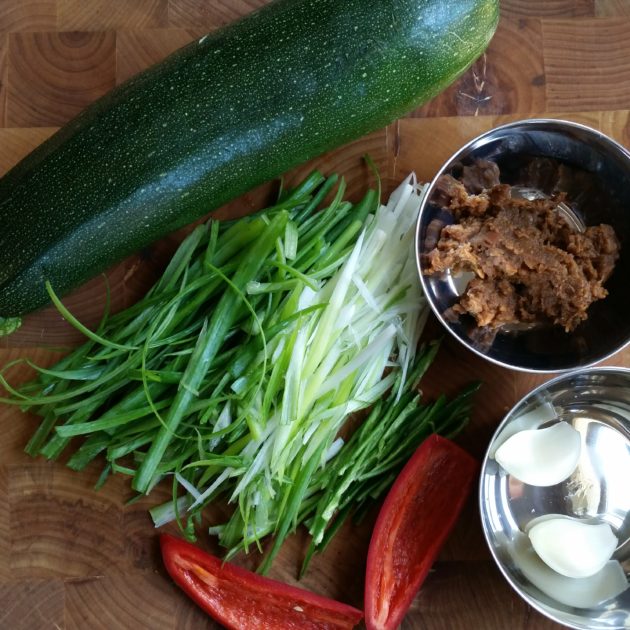 Seed your zucchini!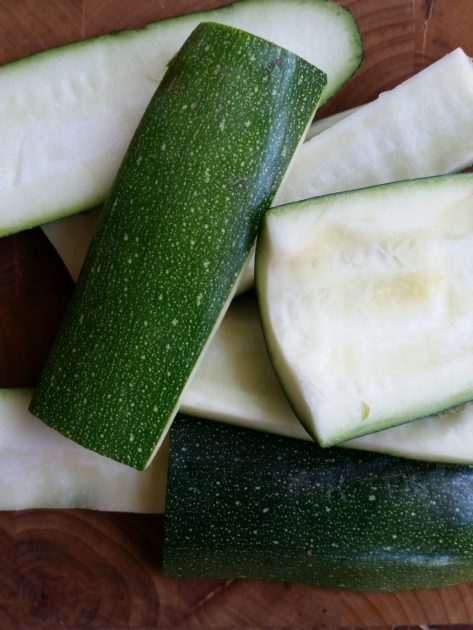 Cut into small sticks. About an inch.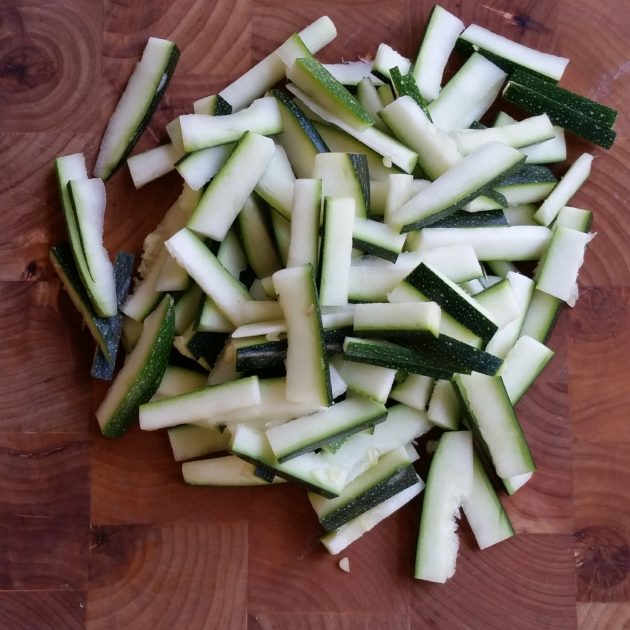 Combine dry ingredients.
Add water and dwenjang, mix until smooth.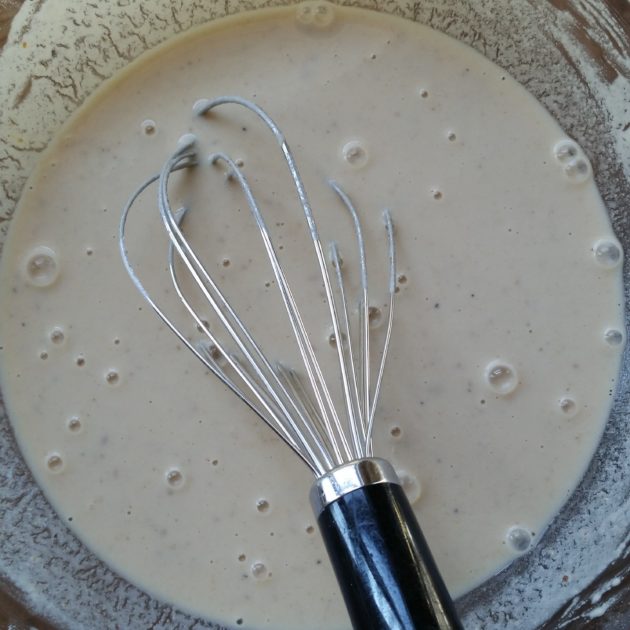 Add seafood and veggies
Fry on both sides until golden brown.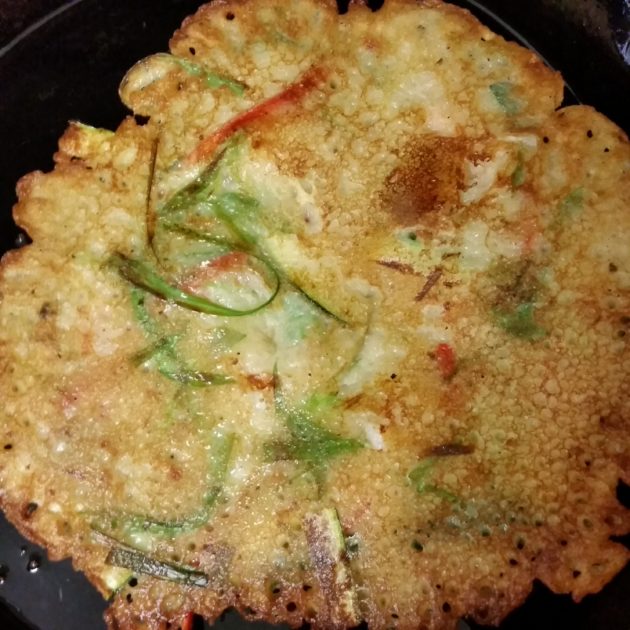 Look at those crispy edges!!!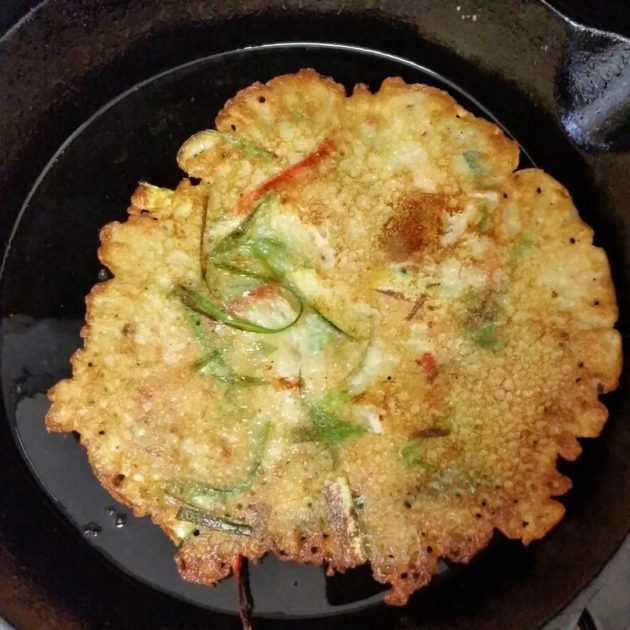 The seafood and zucchini can be replaced with whatever meat or veg you prefer. The base of the pancake is the most important part of this recipe, everything else you can add or remove to your taste. I highly recommend not removing the green onions. Wouldn't be Pajeon without it….IJS. Also, if cooking a pancake close to the size of the pan is intimidating to you because of the flip, make smaller ones.
Crispy Korean Seafood Pancakes
Dipping Sauce: 

Recipe from Judy Joo (The Cooking Channel Show "Korean Food Made Simple")
4 tbsp soy sauce
1 1/2 tbsp rice vinegar
1 tbsp gochugaru
1 tbsp toasted sesame oil
1 tbsp crushed toasted sesame seeds
2 green onions finely diced
In a small bowl mixed all the ingredients for the dipping sauce together. Set aside.
Batter: 
Recipe adapted from Judy Joo (The Cooking Channel Show "Korean Food Made Simple")
2/3 cup rice flour
7 tablespoons self-rising flour
10 grinds black pepper
3 large pinches kosher salt or sea salt
2 tablespoons dwenjang (Korean soybean paste) ** some brands contain fish
1 1/3 cups cold water
10 oz seafood chopped (1 heaping cup)
1 cup zucchini seeded and cut into 1 x 1/4 inch sticks
5 spring onions or scallions, julienned
1 red jalapeno or two red chilies, seeded (you can leave seeds in depending on your heat tolerance) **We used red jalapeno because we could not find red chilies. You want a red pepper for color and flavor (heat).
2 large cloves garlic, grated
1 green chili, cut into long thin strips, with seeds
grape seed or vegetable oil for frying
In a large bowl mix the first four ingredients until combined. Next add your dwenjang and water and mix until smooth. Then stir in your seafood, zucchini, scallions, both chilies, and garlic. Next add about 2 tablespoons of the oil to a skillet (recommend a cast iron if you have it) over medium high heat. Once your oil is hot, add a quarter of the batter to the pan. Be careful not to fill the entire pan. You want your edges to be crispy and need room to flip it. If you put too much then the pancake will be too thick and not crisp up. Cook 3-4 minutes until golden brown and flip for another 3-4 minutes until golden brown.
Serve immediately.