Simple Roast Chicken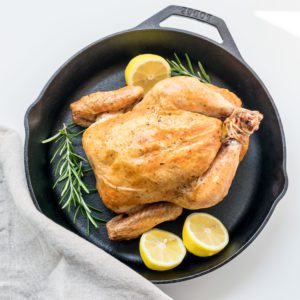 1 4-5 pound roasting chicken
1 tbsp kosher salt
1 tsp black pepper
1 whole head of garlic, sliced in half crosswise
1 lemon, quartered
4-5 sprigs of thyme or rosemary
butcher's twine or silicone cooking bands
2 tbsp butter, melted
Preheat oven to 425°
In a small bowl or ramekin mix together the salt and pepper, set aside.  Line a baking sheet with foil and place the chicken on it. Remove any giblets or any parts that may be inside the cavity. Sprinkle the inside of the chicken cavity  with about ⅓ of the salt and pepper mixture. Then stuff with the garlic, lemon and herbs. Alternate each item, so each of the ingredients are layered in the cavity.
Tie the legs together with butcher's twine or with the silicone cooking bands and tuck the wing tips under the body of the chicken (this helps to keep the wings from getting too brown). Brush the butter all over the chicken and sprinkle heavily with the remaining salt and pepper.
Bake in the oven for one hour, or until the juices run clear when you cut between a leg and thigh. Allow to rest 15 minutes before carving.