Salmon with Slaw and Cilantro Tahini Dressing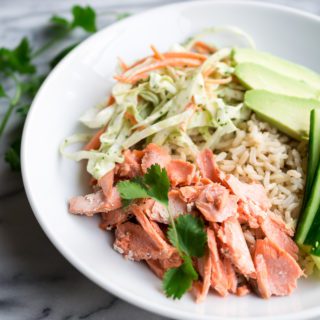 1 pound salmon
1 tbsp olive oil
salt and pepper
1 cup cilantro leaves
1 half of Serrano pepper, roughly chopped
3 green onions, roughly chopped
1 clove garlic, roughly chopped
¼ cup tahini
¼ cup lime juice, about 2 limes
¼ cup apple cider vinegar
¼ cup water
2 tsp honey
1½ tsp salt
freshly ground black pepper
5 cups thinly sliced cabbage, about ½ of a medium sized head
2 cups of shredded carrots
2 avocados, sliced
½ English cucumber, sliced
brown rice for serving, optional
Preheat oven to 375°. On a foil lined baking sheet, coat salmon with olive oil and sprinkle with salt and pepper. Bake for 15-20 minutes or until cooked through. Allow to cool. Flake the salmon, or leave whole if desired.
In a food processor or blender, combine cilantro, Serrano, green onions, garlic, tahini, lime juice, water, salt and pepper. Process until smooth and creamy.
Toss the cabbage and carrots with ⅓ cup of the dressing.
In 4 bowls, add desired amount of brown rice, a ¼ of the salmon and slaw to each bowl. Top with avocados and cucumbers. Drizzle with more dressing. Serve.
Recipe by
Cooks and Kid
at http://www.cooksandkid.com/2017/01/18/salmon-with-slaw-and-cilantro-tahini-dressing/