Kale Salad with Quinoa, Sweet Potatoes and Shallot Vinaigrette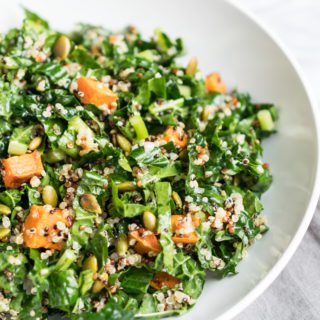 1 large sweet potato (about 1½ pound), peeled and diced
2 tbsp olive oil
½ tsp salt
freshly ground black pepper
1¼ cup quinoa
2 bunches of kale (preferably Lacinato), leaves and tender stems thinly sliced
½ cup roasted pumpkin seeds
Vinaigrette
3 tbsp red wine vinegar
¾ tsp Dijon mustard
1 tsp honey, (alternatively maple syrup if vegan)
½ cup olive oil
½ tsp salt
few grinds of black pepper
¼ cup finely chopped shallots, about 1 large shallot
Preheat the oven to 375
Toss the diced sweet potato with olive oil, salt and pepper. Place on a baking sheet and bake for 20-25 minutes or until tender and golden brown. Allow to cool.
Rinse the qunioa in cold water. Place in a saucepan with two cups of water. Bring to a boil. Cover and turn the heat down to low. Let simmer until the quinoa is tender and most of the water has evaporated or about 15-18 minutes. Let it sit covered for an additional 15 minutes. Allow to cool.
In a very large bowl, whisk together the red wine vinegar, Dijon, honey, olive oil, salt and pepper. Stir in the shallots. Add the sweet potatoes, quinoa, kale and pumpkin seeds. Stir well to combine. Serve.
Recipe by
Cooks and Kid
at http://www.cooksandkid.com/kale-salad-quinoa-sweet-potatoes-shallot-vinaigrette/