Summer is officially here! To celebrate we are partnering with some awesome Bloggers and Instagrammers to bring you #summerlovespeaches! We each have created a recipe using juicy Georgia peaches. Lately, we have been playing around with halloumi (we have been hooked since we tried it), and we knew that it would be a wonderful combination with sweet peaches. Our contribution to #summerlovespeaches is Grilled Halloumi and Peaches with Basil-Jalapeno Sauce.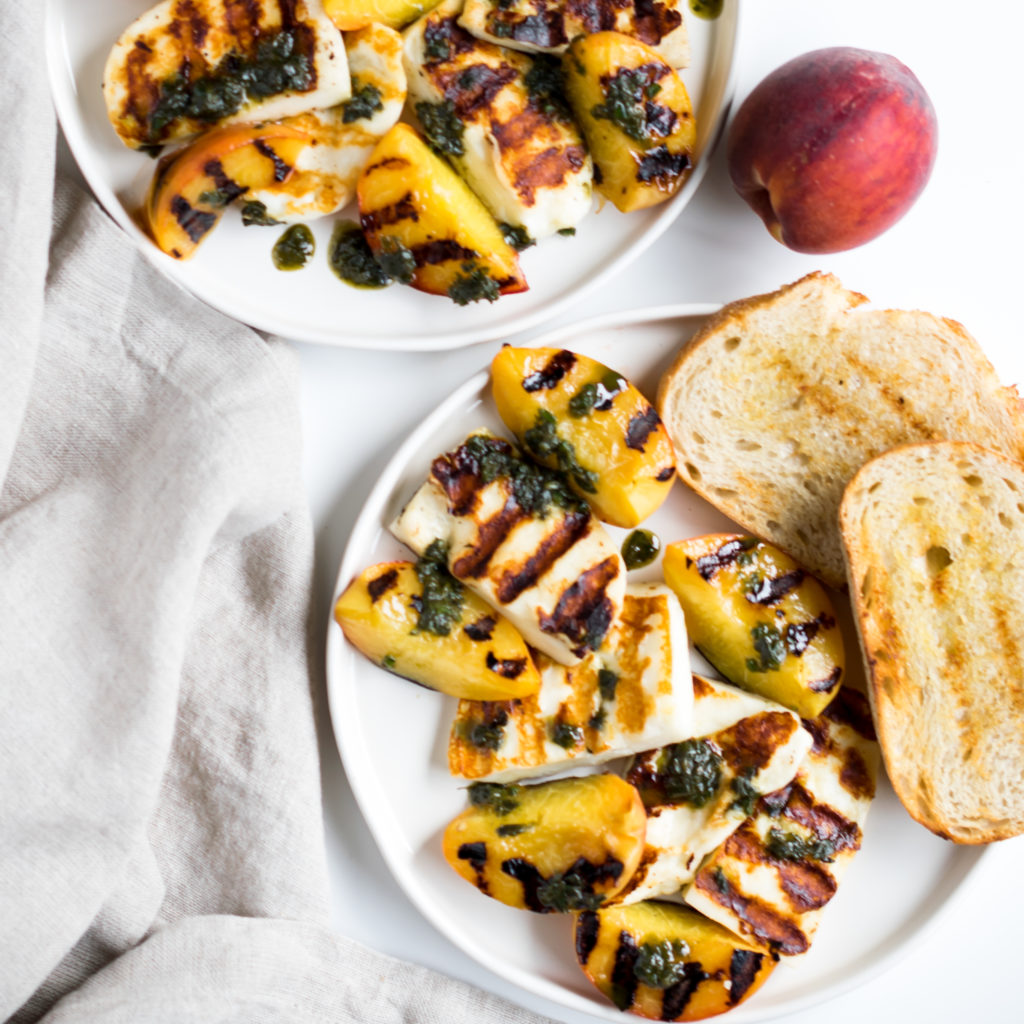 Halloumi is a semi-hard brined cheese made from sheep's milk. It has a high melting point so you can grill and fry it. The flavor is sharp because of the sheep's milk and salty because of the brine. If you like cheeses like manchego and pecorino (which is also made from sheep's milk) than you will love the flavor of halloumi. Due to the sharp and salty flavor it pairs perfectly with fruit. We paired it with peaches because they can also be grilled,  or use any stone fruit you prefer. Just makes sure it is not too ripe so it maintains it shape while grilling. Also, I made a basil jalapeno sauce to bring everything together. Basil is great with cheese and fruit, and the jalapeno adds  slight heat. Two things to note,  true halloumi is made from sheep's milk (and or a combination of another milk), and because of that it is on the expensive side. We recently, just found some at Trader Joe's, and it is pretty good and inexpensive. Secondly, you may come across some cheeses labeled "frying cheese" that is not true halloumi. Those cheeses are usually made from cow's milk which means it will not be the same flavor as halloumi. Real halloumi will be labeled halloumi. This cheese is worth seeking out, and you will not be disappointed. You will become addicted like we have!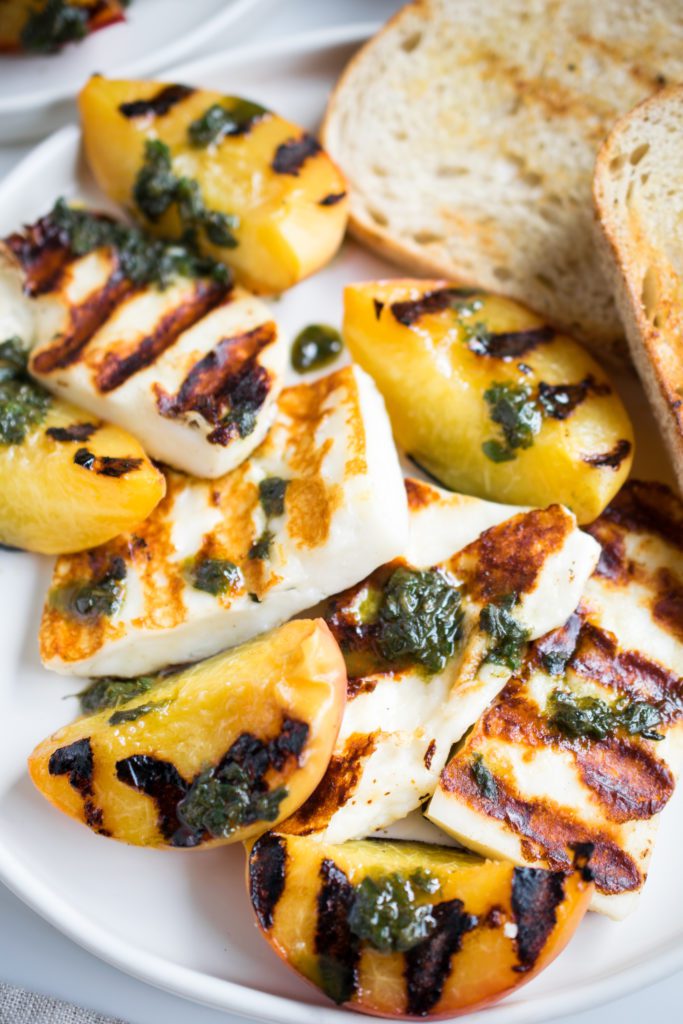 Be sure to check out all of the other delicious peach recipes from these bloggers below! Also, check out the #summerlovespeaches on Instagram. What are some of your favorite peach recipes?
If you like this grilled halloumi recipe you can find more cheese-centric recipes here!
Grilled Halloumi and Peaches with Basil-Jalapeno Sauce
Ingredients
1 cup lightly packed basil, leaves torn
1 small jalapeno, de-seeded roughly chopped
¼ cup olive oil, plus additional
1½ tsp water
¼ tsp salt
2- 3 semi-ripe peaches, sliced in half and pit removed.
1 8-9-ounce package Halloumi cheese, cut crosswise into 8 slices
Instructions
Place basil, jalapeno, ¼ cup of olive oil, water, and salt in a small bowl. Using a immersion blender, puree the sauce. Alternatively, this can be done in a small food processor, but you need to keep scraping down the sides because the sauce is a small amount and the blades have a harder time reaching everything. Set the sauce aside.
Preheat a grill or grill pan to high.
Brush the peaches with olive oil. Grill 3-4 minutes on each side, or until caramelized with grill marks and softened.Once cool enough to handle, slice each peach half, in half again (to quarter the peach). Arrange the peach wedges on a platter, or individual plates.
Brush both sized of the halloumi with olive oil. Grill 2-3 minutes on each side, or until the cheese starts to soften (just before it melts) and develops grill marks.
Place the halloumi slices on the platter with the peaches. Spoon the basil jalapeno sauce on top of the peaches and halloumi. Serve immediately with grilled bread and wine.