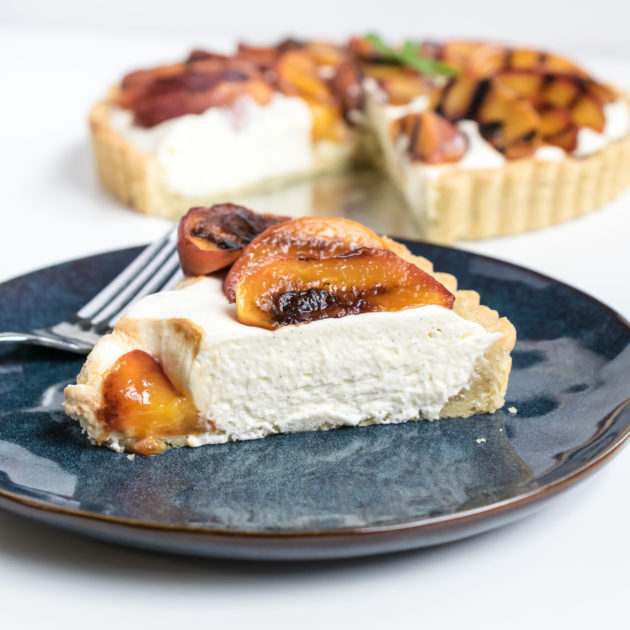 I think I have mentioned before that we are not really a dessert family. I actually do like to bake on occasions, but mostly we don't do desserts because of my husbands addiction to sugar. It's like crack to him. Not exaggerating at all! So I bake sparingly, whenever I am craving something AND I have the heart to make it happen.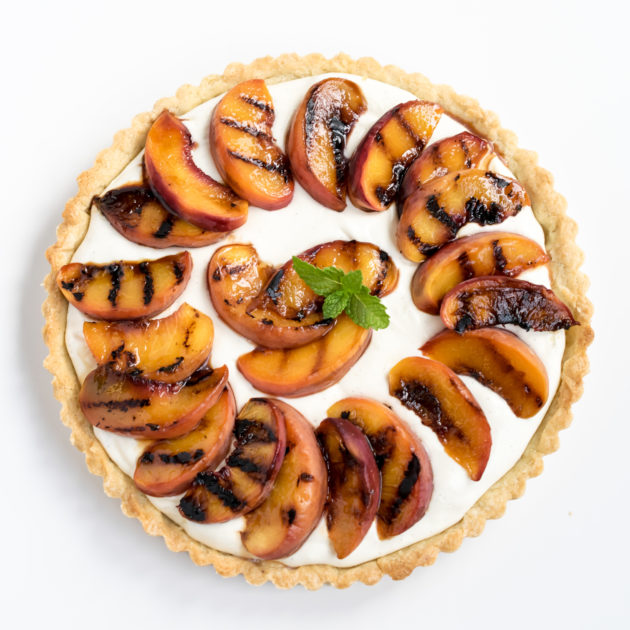 I have not been able to forget the strawberry mascarpone tart we had at Laduree the first time we went to Paris (which has been 5 years ago). I still remember that delicious butter cookie tart crust, lightly sweetened mascarpone filling and those juicy strawberries. That tart will forever be ingrained in my memory. One of the best desserts I have ever eaten hands down.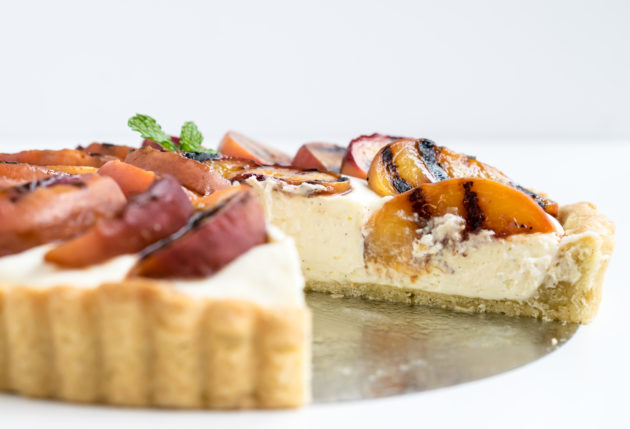 This grilled peach tart is the outcome of trying to satiate that craving. Currently, peaches are in season, and I have been seeing a lot of grilled peach desserts. I love the flavor of cooked peaches; the flavor is just so much more intense. I thought caramelized peaches would be a perfect topping to the lightly sweetened mascarpone filling. I was right, ultimate combo! What is also special about this tart is the shell. It reminds me of more a shortbread cookie than a crust. The tart shell is flavored with vanilla bean and lemon zest, which adds another layer of flavor. This is a perfect tart, especially in the summer. Feel free to switch out the topping for the best fruit you have available. This tart really gets its sweetness from the fruit (the filling is only slightly sweetened), so it is important to use the best fruit you can find.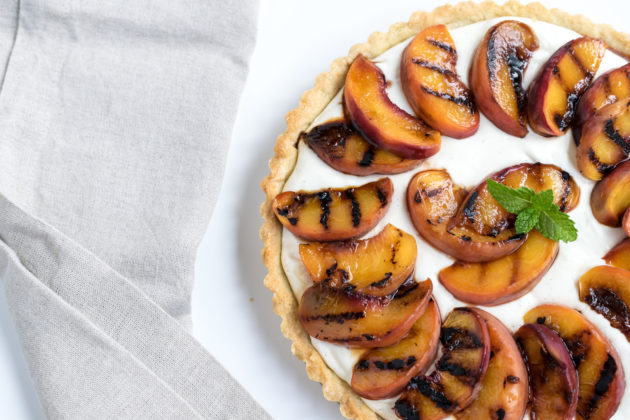 Grilled Peach Mascarpone Tart
Ingredients
Tart:
1 cup all purpose flour
⅓ cup confectioners sugar
pinch of salt
1 stick butter
zest of ½ a lemon, optional
vanilla bean, scored lengthwise and seeds removed, optional
1 egg yolk
1-2 tbsp water
butter, to grease the tart pan
Peaches:
3 peaches, sliced lengthwise into 6ths
2 tbsp brown sugar
Filling:
1 cup mascarpone
1½ cups heavy cream
3 tbsp sugar
1 vanilla bean, scored lengthwise and seeds removed
Instructions
Special equipment:
-inch tart pan with a removable bottom and pie weights (can use uncooked rice or dried beans)
Tart:
In a food processor combine the flour, sugar, and salt. Pulse to combine. Add the butter, lemon zest, vanilla bean seeds and egg yolk. Pulse until the mixture resembles crumbs. Add 2 tbsp of water and pulse again, until the mixture starts to form a dough. Remove the dough onto a floured work surface and form into a flat 6" disc. Wrap in plastic wrap and chill for at least an hour.
Brush the tart pan with a little butter. Roll out the dough onto a floured work surface. Once rolled out large enough to fit into tart pan, place the dough in the pan and fill in any cracks. Prick the tart dough with a fork all over the bottom. Place the tart pan in the freezer for 1 hour. Preheat the oven to 350°. Place parchment paper on the tart dough and fill with pie weights (we used rice). Bake for 30 minutes. Remove the the parchment paper with the pie weights and return the tart pan to the oven. Bake for an additional 10-15 minutes or until the tart is golden brown. Allow to cool completely.
Peaches:
In a large bowl, toss the peach slices with brown sugar. Allow them to sit for 5 minutes before grilling. Place a grill pan over medium-high heat and grill the peach slices 2-3 minutes per side. Remove the slices to a plate and allow them to cool.
Filling:
Beat the mascarpone, heavy cream, sugar, and vanilla seed in a large bowl. Start the beater on very low speed to combine. Once combined, increase the speed and beat until stiff peaks are formed.
Assembly:
Fill the tart shell with the mascarpone cream and then top with the grilled sliced peaches. Enjoy.
More sweets
here
!