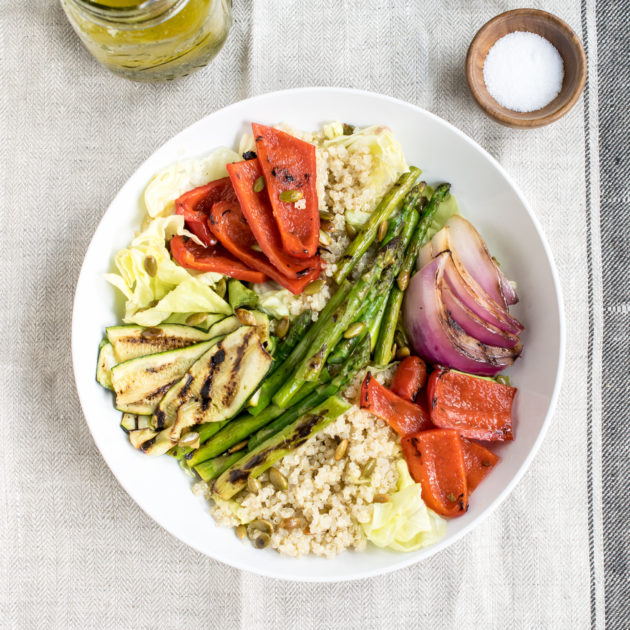 How many people can say they love salads? I can! They are actually one of my favorite foods. Not something you would expect to hear. I love the many textures, crunch, mix of flavors and I also have this thing for vinegar. My only gripe with salads is that I am usually hungry again in a few hours. Wamp wamp! Starving actually, so hungry that I end up craving a burger or something heavy and not so great for me. Tell me I am not the only person who feels this way?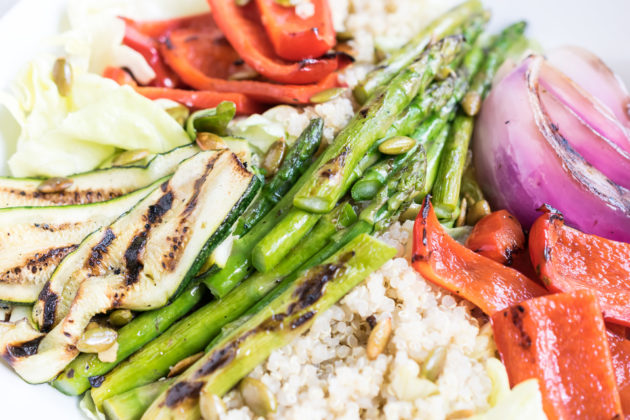 Because of this, I love salads that have ingredients that make them filling. I usually prefer to do this without adding meat. Since we are on a budget, we try to eat meat sparingly and look for other options for protein. Quinoa is a great alternative to meat. It also adds great texture. The veggies make for a very hearty salad and grilling them gives a nice charred roasted flavor, which adds another layer of flavor. The quinoa and veggies are served on a bed of Boston lettuce which gives it a nice cool crunch.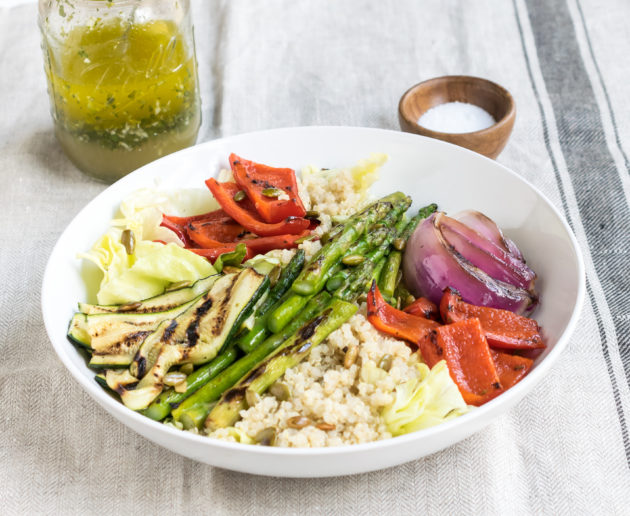 One of my favorite things about this salad, (beside all of the texture) is the vinaigrette. It is apple cider vinegar based and has herbs, garlic, and minced jalapeno. The combination is a little heat, with lots of flavor that pairs so well with the grilled veggies. Right before grilling the veggies, I toss them in the vinaigrette to pick up the flavor. Then drizzle on more when all the ingredients are plated. I also threw in some roasted pumpkin seeds for crunch. I think this salad is a keeper, guys. Perfect for a Meatless Monday!


Grilled Vegetable and Quinoa Salad
Ingredients
Vinaigrette:
1 tbsp chopped parsley
1 tbsp chopped mint
1 garlic clove, minced
1 small jalapeno, minced
1 tsp honey or maple syrup
½ cup apple cider vingear
juice of half of lemon
½ cup olive oil
1½ tsp salt
freshly ground black pepper
Salad:
1 bunch of asparagus, trimmed
2 red peppers, sliced into 8ths lengthwise
1 red onion, into 6ths
3 zucchini, sliced lengthwise into ¼ inch thick rectangles
2 tsp salt
freshly ground black pepper
2 small heads of Boston lettuce
2 cups cooked quinoa (cooking instructions here)
⅓ cup roasted pumpkin seeds
crumbled goat cheese (optional)
Instructions
In a small bowl, combine parsley, mint, garlic, jalapeno, vinegar, honey, and lemon. Whisk in the olive oil. Season with the 1½ tsp of salt and black pepper.
Place a grill pan over medium heat or prepare the grill to medium high heat.
In a large bowl, toss the asparagus, peppers, red onion, and zucchini with 4 tbsp of vinaigrette, 2 tsp salt, a few grinds of black pepper, and 1 tbsp of olive oil. Toss well to combine.
Working in batches grill the vegetables about 3-4 minutes on each side, until tender and lightly charred. The asparagus may only take about 2-3 minutes a side. To get the grill marks don't move the vegetables too much, only move them to flip them to the other side.
Once the vegetables are done, transfer them to a platter. Arrange the lettuce on four plates, top each plate with a ½ cup of quinoa, a ¼ of the grilled vegetables, sprinkle with pumpkin seeds and drizzle with the vinaigrette. If using, top with crumbled goat cheese.