Lately I have been on an Italian kick. It's probably the bottle of Pinot Grigio we bought. Normally, I don't buy wine. We needed it for the squash blossoms batter and I thought "Hey the rest will be a treat". Phil is not much of a wine drinker and I love it, so I have to drink it by myself. I normally end up having to re-cork the bottle and put it back in the fridge until the following weekend. So because of that we are a beer house.


Anyway, Pinot Grigio just makes me want Italian food. It's light, crisp and refreshing, and pairs perfectly with a big bowl of pasta with fresh tomatoes. This pasta dish gets its back bone from not only the fresh tomatoes, but the anchovies that melt in the oil before adding the tomatoes. Anchovies give umami and wonderful flavor without a ton of effort. I had shrimp in the freezer and thought it would be a great addition to the tomato and anchovy flavor. By all means, if you don't have shrimp feel free to leave them out. This dish is equally delicious without the shrimp. The shrimp just make it a bit more special.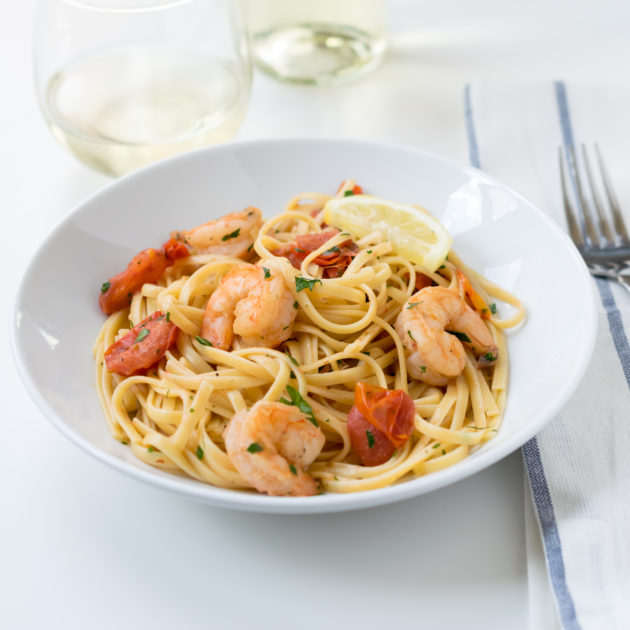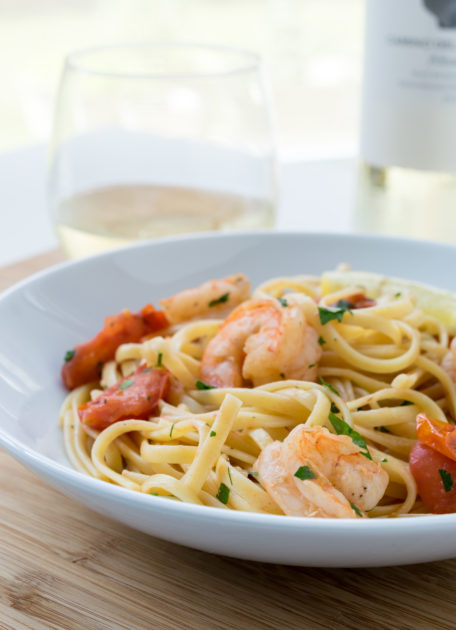 Linguine with Shrimp and Tomatoes
Ingredients
1 pound linguine
4 tbsp olive oil
6 anchovy fillets
3 cloves garlic, sliced
1 tsp red pepper flakes
1 pound large shrimp, peeled and deviened
2 tsp salt, divided
few grinds freshly black pepper, plus more
1 pint of grape tomatoes, halved
juice of half a lemon
½ cup of white wine (whatever you will drink)
3 tbsp chopped fresh parsley
Instructions
Bring a large pot of salted water to a boil. Cook the pasta about 1 minute less that the directions suggest.
In a large pan, heat the olive oil over medium heat, once hot add the anchovies, garlic, and red pepper flakes. Saute for about 2 minutes or until the anchovies start to melt in the oil. Add the shrimp in an even layer and season with 1 tsp of the salt and a few grinds of black pepper. Cook the shrimp for about 2 minutes and then flip over and cook for an additional 1 minute. Add the tomatoes and stir. Cook for about 3-4 minutes or until the tomatoes start to wilt and give up their juices. Add the lemon juice and wine. Cook for an additional 2 minutes.
Reserve  1/2 cup of the pasta's cooking water. Drain the pasta and toss in with shrimp and tomatoes. Toss well to coat the pasta in the sauce. Add about ¼ cup of the cooking water and toss well. Sprinkle with parsley and the remaining 1 tsp of salt and a few grinds of black pepper. Toss again. Serve hot.