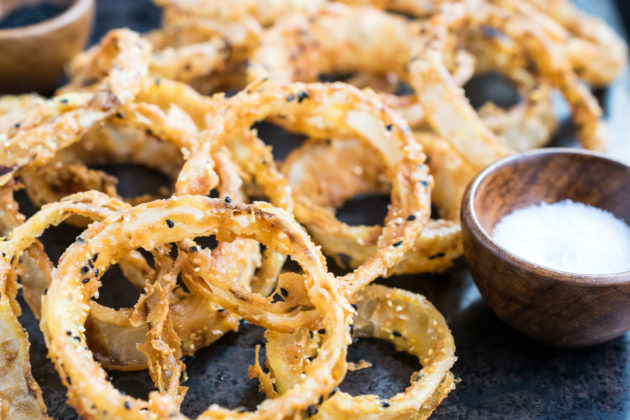 Spices, nothing peaks my curiosity more.  I think because there is so much history behind them and I know that so many cultures have deep ties to them. My mother collects spices the way any woman would collect nail polish or handbags. I think her curiosity is also part of the reason why I want to learn more. What I love about my mother and her obsession with spices is that she doesn't just collect them, she uses them. She is not afraid to make something delicious with a concoction of spices she pulls out of the cabinet.  That comes naturally to her. Me not so much. I always want to start with the history of a spice, meaning who uses this spice, and what do they traditionally use it in.
I have continued to grow in my capabilities as this blog has progressed. Every now and then I throw caution to the wind and add spices to something real basic. Sometimes it works and sometimes it doesn't. I am not quite to my mother's ability yet. That is why when I came across this recipe from Ottolenghi on The Guardian, I was obsessed. I love when exotic spices are used in very ordinary traditional recipes. To put it plainly, I think it's recipes like this that get you out of your comfort zone and change the way you approach ingredients. Onion rings are pretty ordinary bar food and are delicious. This recipe makes them even more delicious by using turmeric in the buttermilk and nigella seeds in the flour coating. I added cornmeal, because I love the sweetness it brings to the spices. I also adore the texture cornmeal gives to the crispy coating.
Turmeric, I am pretty sure you are familiar with, normally comes in ground form, is yellow and used in Indian and Middle Eastern cooking. Now nigella seeds you may not be familiar with. They are used in Indian and Middle Eastern cooking and are tiny black seeds that taste like an onion and pepper had a baby. A beautiful strong aromatic flavor from a tiny seed. I found them at our local Indian Market, with the name Kalonji. They are worth seeking out. The flavor is very distinct, and they are pretty special. From what I understand they are traditionally used in flatbread and vegetable dishes.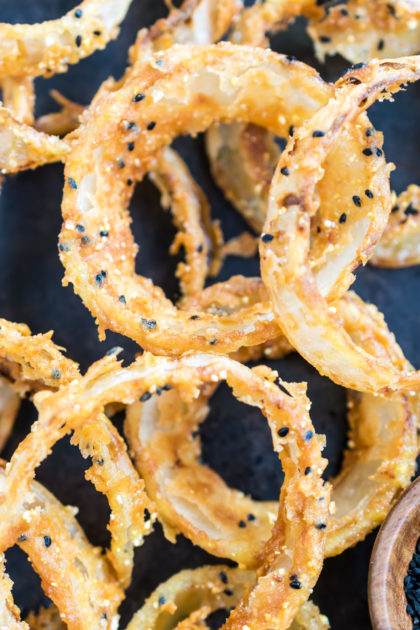 Nigella Seed Onion Rings
Ingredients
1 large Spanish onion, peeled and sliced into ½" rounds, separated into rings
1 cup buttermilk
1 tbsp white wine vinegar, optional
½ tsp turmeric
1 tsp kosher salt, separated plus additional for sprinkling
¼ tsp cayenne
¾ cup, all purpose flour
2 tbsp cornmeal
2 tsp nigella seeds
½ tsp salt
2 cups neutral oil, for frying
kosher salt
Instructions
In a large bowl, mix together buttermilk, vinegar, turmeric, ½ tsp salt and cayenne. Add in the onion rings, toss well to combine. Allow the onions to marinate for at least 15 minutes (the onions can stay in the buttermilk for a few hours). In another bowl mix together flour, cornmeal, nigella seeds, and the remaining ½ tsp salt.
When you are ready to fry, preheat the oven to 300°. Line a baking sheet with paper towels. Heat the oil to 350° in a large pot or dutch oven.
In batches, dredge the onion rings into the flour mixture. Place the onion rings separately on a couple of plates until ready to fry. Fry the onion rings in 3-4 batches being careful not to crowd them. Fry for 2-3 minutes or until golden brown. Remove from the oil and place on the baking sheet and sprinkle with salt. Place the baking sheet in the warm oven. Repeat the process with the remaining onions rings, placing them in the oven to keep warm. Serve hot.