Spring is here! Last Saturday was opening day at the farmers market. The farmers market is probably what we most look forward to that comes along with Spring. To celebrate the start of spring we teamed up with some Bloggers and Instagram friends and are using #easypeasyforspring to share what we have created. We decided to not only share this Filled Pasta "Pi Fasacc" with Fresh Peas and Pancetta on Instagram, but also here on our blog.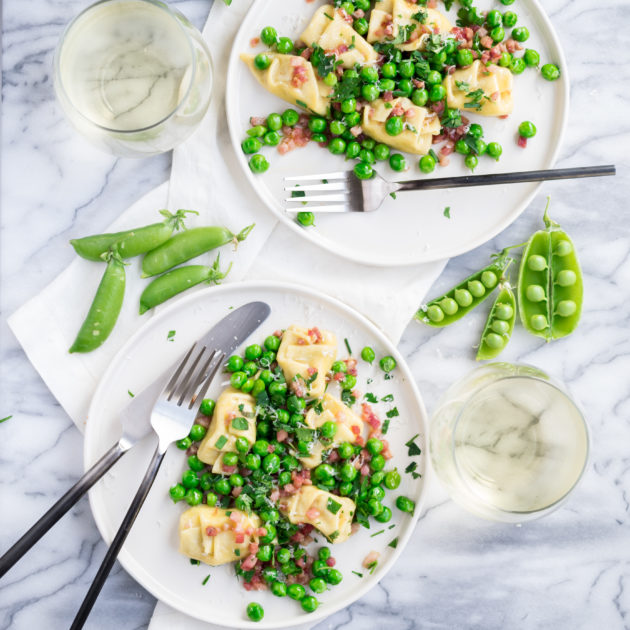 As we were strolling through the farmers market, I found fresh peas and we picked up some fresh filled pasta. The fresh pasta was from Storico Fresco, which if you are local to Atlanta you should definitely check them out. I have heard amazing things about their restaurant but we can only speak to the pasta we purchased and it was delicious. You can definitely taste the pride of their product in their pasta. We settled on a pasta called Pi Fasacc ("swaddled newborn") and was filled with Taleggio cheese. Back to the peas, if you can find fresh peas, I highly recommend you buy them. The brighter, greener flavor is totally worth shelling them yourselves. Frozen will work in a pinch, but I can't lie and say the flavor is the same.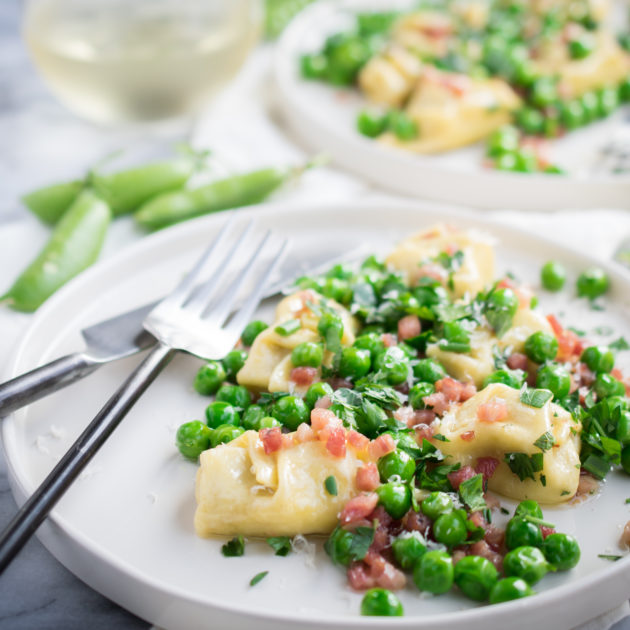 If you want to check out some of the other #easypeasyforspringrecipes from some of our fellow IG friends, here are their blogs…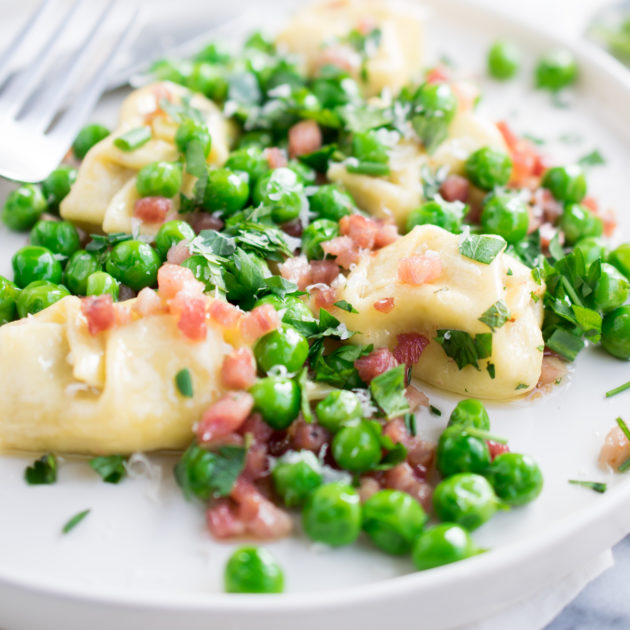 Pi Fasacc Pasta with Peas and Pancetta
Ingredients
1½ cup fresh shelled peas (about 1½ pounds un-shelled)
1 pound of your favorite cheese filled pasta
2 tbsp unsalted butter
4 ounces of finely diced pancetta
1 peeled garlic clove, optional
2 tbsp of chopped mixed herbs such as chives, mint, and parsley
freshly grated Parmesan cheese, for serving
Instructions
Bring a large pot of salted water to a boil. Add the peas and let boil for 90 seconds. Scoop out the peas and place them in to a bowl of ice water. Drain and set aside.
Bring the pot back up to a boil. Drop the pasta and cook a couple of minutes less than the instructions on the package.
Heat a large skillet over medium heat, add the butter, pancetta and garlic clove. Cook until the pancetta just starts to turn golden, about 3 minutes.
Drain the pasta and add it right into the skillet with the pancetta. Add the peas. Toss to combine and cook for 1-2 minutes or until the pasta starts to absorb the sauce and everything is well combined.
Transfer to a platter or to plates. Top with herbs and freshly grated Parmesan. Serve.
Get more pasta recipes
here
!