These days we are all about creating our favorite restaurant dishes at home. Hence this Pickled Shrimp and Avocado Salad.  This salad is a re- creation of JCT's Kitchen's amazing "Shrimp and Avocado Salad." The simplicity of this salad is what I love the most. Poached shrimp tossed with bibb lettuce, avocado, lemon, and tangy herb vinaigrette. I mean literally the salad is shrimp, lettuce, and avocado, not complex at all, but it is so good!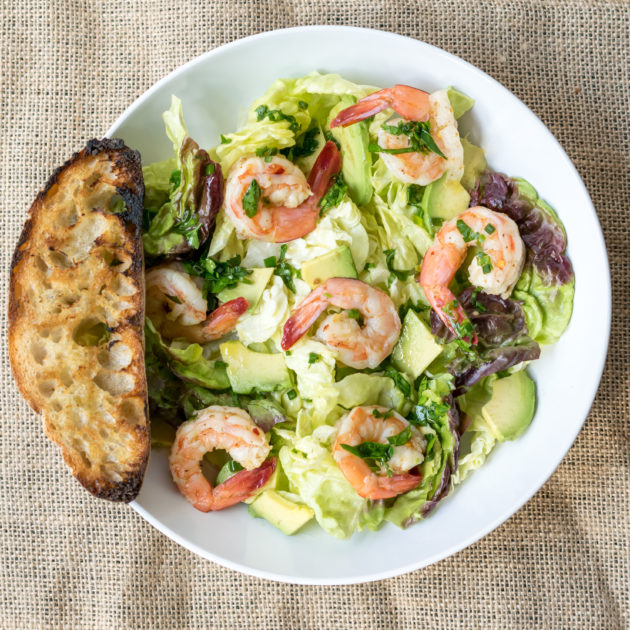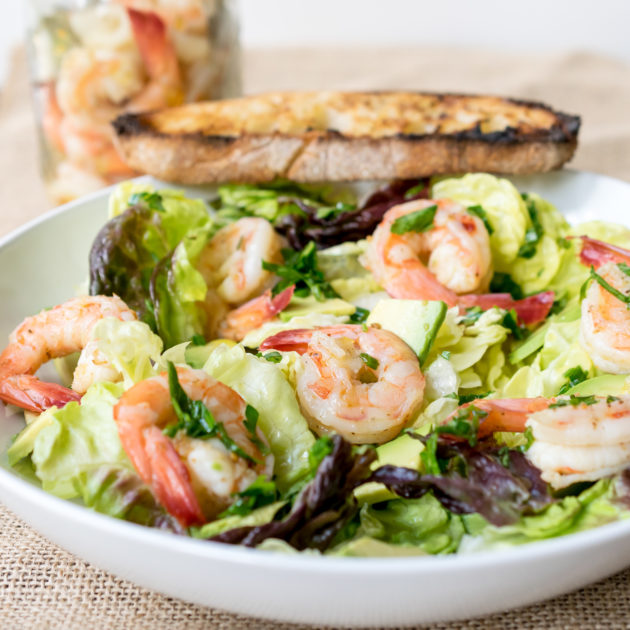 I admit this is some what of twist because their shrimp is not pickled but poached. From the library, I have checked out (yes, we are about that life now) both of Hugh Acheson's cookbooks, "A New Turn in the South" and "A Broad Fork". Each cookbook contains his recipe for Pickled Shrimp. I thought to myself, man it has to be good if it's in both books. Not to mention, pickled shrimp sounded very intriguing. The cookbook states, it is usually eaten as an appetizer -the same way you eat cocktail shrimp. I wasn't too keen on that idea just because of the work involved, I wanted to pair it with something. Plus, you know we are all about stretching things. I thought how could I make it a meal? Then I remembered the fabulous salad from JCT's Kitchen and how perfect pickled shrimp would pair with the smooth fatty flavor of avocado and crunchy crisp lettuce. Pickling the shrimp instead of just poaching, adds such complexity of flavor. Instead of the shrimp tasting just sweet, they taste sweet and savory because of the spices and the oil. The oil in the shrimp serves double duty, as it is the base for the dressing. This salad is a wonderful combination of flavors. We paired it with some grilled bread which really made it a meal.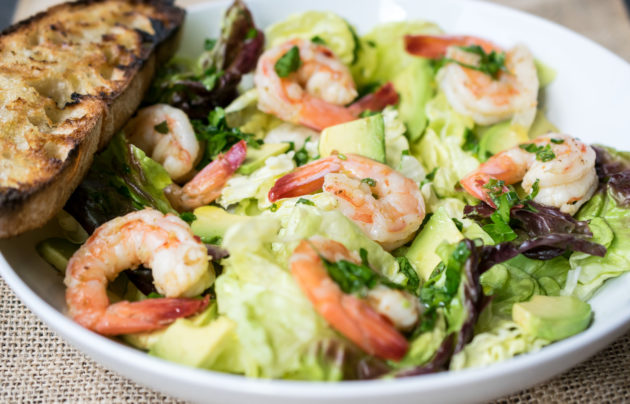 Pickled Shrimp & Avocado Salad
Ingredients
Pickled Shrimp
1 tbsp old bay seasoning
1 lb medium shrimp, peeled and deveined (preferably wild caught)
1 tsp coriander seed
½ tsp celery seed
1 cup olive oil
⅓ cup lemon juice
1 tbsp kosher salt
½ tsp crushed red pepper flakes
3 cloves of garlic, peeled and left whole
6 dried bay leaves
½ medium onion, thinly sliced lengthwise
Salad
3 heads of Boston or bibb lettuce, leaves torn or chopped
2 tbsp lemon juice
1 tbsp white wine vinegar
3 tbsp chopped parsley
2 tbsp chopped chives
2 avocados, chopped
Instructions
Pickled Shrimp:
Prepare a large bowl of ice water.  Bring 8 cups of water and old bay to a boil in a large saucepan, add shrimp. Reduce heat to low and boil for 2 minutes. Drain the shrimp and transfer to the bowl of ice water to chill. Once the shrimp are cold, drain again.
Toast the coriander and celery seeds in a pan over medium heat, until fragrant (about 3-4 minutes). Allow to cool and finely grind seeds in a spice grinder or mortar and pestle.
Transfer the ground seeds to a bowl and stir in the oil, lemon juice, salt, red pepper, garlic, and bay leaves. In a 1 - quart glass jar (alternatively a gallon freezer bag) layer the onions and shrimp. Pour over the oil mixture.
Cover the jar with the lid and chill overnight.
Salad:
Once the shrimp are ready to serve, ¾ cup of the oil will be used to make the dressing. If the oil has hardened in the fridge, pull out the jar 20 mins before you are ready to make the dressing. Using a strainer, strain ¾ cups of the oil mixture into a bowl.  Whisk in lemon juice, vinegar, parsley, and chives into oil. Remove the shrimp from the jar and place in a bowl. Discard the remaining oil and spices.
Arrange the lettuce on 4 plates, top with avocado and shrimp. Spoon the dressing on the salads and serve immediately.
*The shrimp will keep up to 3 days in the oil mixture.
More salad recipes
here
!