When the weather warms, we are attached to our grill and patio. A cold beer or glass of wine, some music and food on the grill is how we love to spend our evenings on the weekend. This Slow Grilled Leg of Lamb with Spicy Salsa Verde is perfect for just that type of night.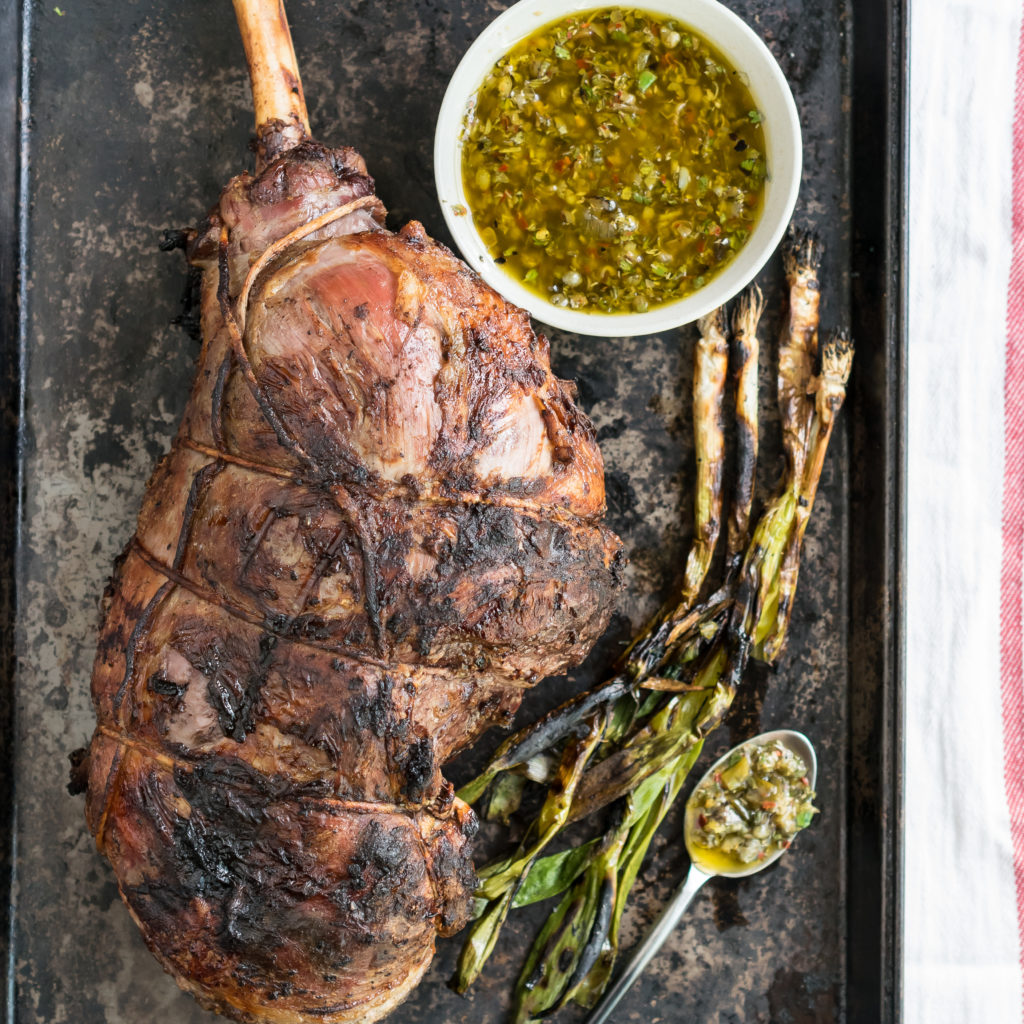 We love grilled leg of lamb, but I don't prefer cooking it at a high heat quickly. I prefer lamb when it's been slow cooked, but has a nice crust on the outside, and this recipe delivers just that. Slow cooking the lamb keeps it juicy and tender, but starting it on the open flame of the grill gives it a beautiful crispy char on the outside. Usually, we marinate the lamb in yogurt, tons of garlic and fresh herbs. Here we switched it up slightly and added some spices to the marinade to give it more of a Middle Eastern flavor. I love shawarma spices and how well they play with lamb. I would say this is a shawarma "lite" spice blend, as it's not as complicated, but still gives you all the Middle Eastern feels.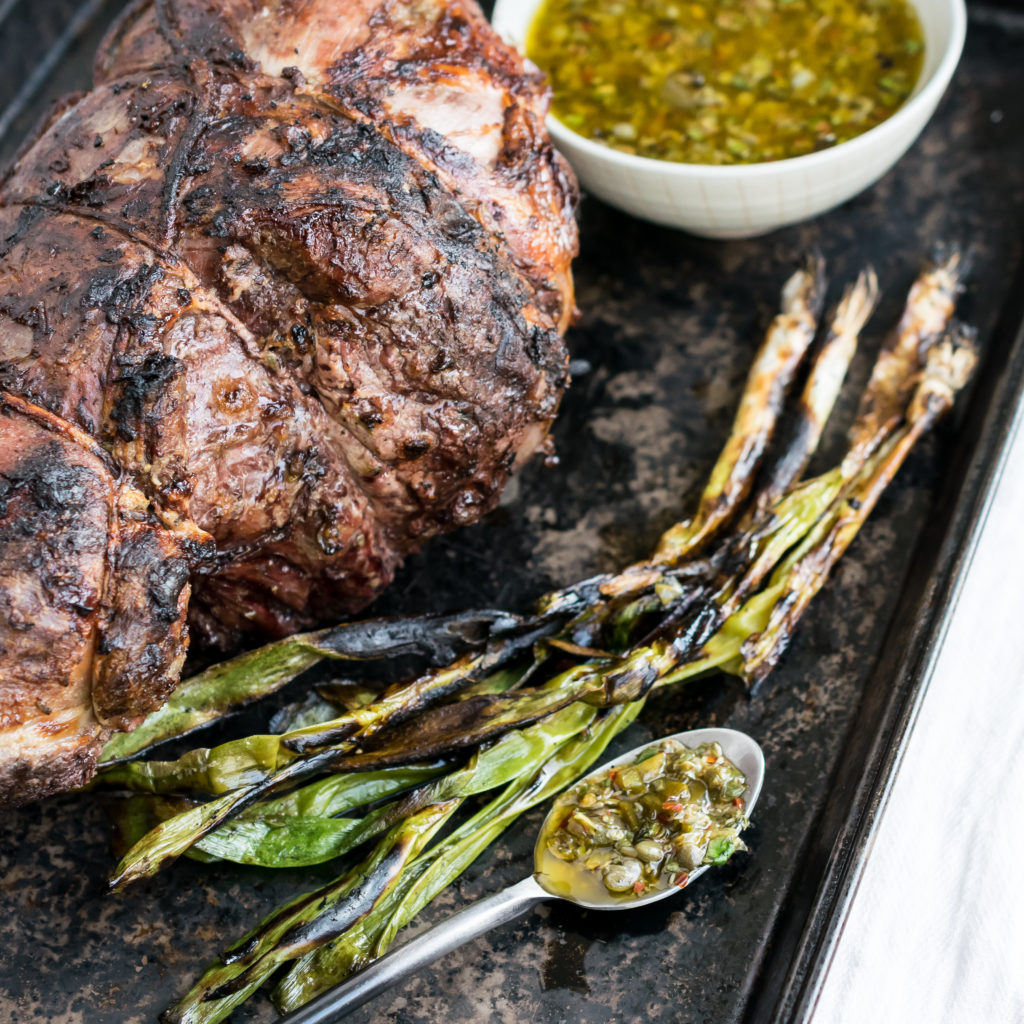 Slow Grilled Lamb with Spicy Salsa Verde
Ingredients
Marinade:
1 cup whole milk yogurt
3 lemons, juiced
2 tbsp chopped rosemary
6 garlic cloves, grated
½ tsp ground cumin
½ tsp ground coriander
1 tbsp kosher salt
¼ black pepper
⅛ tsp cinnamon
1 -5 lb leg of lamb (bone-in or semi-boneless)
Spicy Salsa Verde:
zest of 1 lemon
¼ cup lemon juice
½ cup olive oil
¼ cup capers, chopped (drained and rinsed first)
3 tbsp chopped mint
4 tbsp chopped parsley
3 tsp red pepper flakes, use 1-2 if you want it mild instead of spicy.
¾ tsp kosher salt
5-6 scallions, chopped
Instructions
In a small bowl, combine yogurt, lemon juice, rosemary, garlic, cumin, coriander, salt, pepper and cinnamon.
Place the lamb in a baking dish large enough to fit the lamb, and rub the yogurt marinade all over the lamb. Cover with plastic wrap and place in the fridge to marinate overnight.
minutes before grilling the lamb, take it out of the fridge.
Prepare the grill for medium-high, indirect heat. Leave one or two burners off, if using a gas grill. If using a charcoal grill, bank coals on side of the grill.
Grill lamb, fat side up, over direct heat. Turn often and move to a cooler side of the grill as needed to control flareups. Grill until evenly browned all over, about 15–20 minutes (lamb and marinade are both very fatty, so keep an eye on it and move off the grill for a moment if flare-ups get too intense). Place lamb over indirect heat and grill until an instant-read thermometer inserted into the thickest part of lamb reads 135°, about 1½–2 hours. (Take the temperature in multiple spots for the most accurate reading.) Transfer the lamb to a cutting board and allow to rest for 10-15 minutes.
While the lamb is on the grill (during the 1½-2 hours cooking time), make the salsa verde. In a bowl, whisk together lemon zest, lemon juice, olive oil, capers, mint, parsley, red pepper flakes, and salt. Stir in scallions.
Holding the bone, thinly slice lamb against the grain, continuing until you reach the bone. Serve the lamb with salsa verde (be sure to stir the salsa before serving).