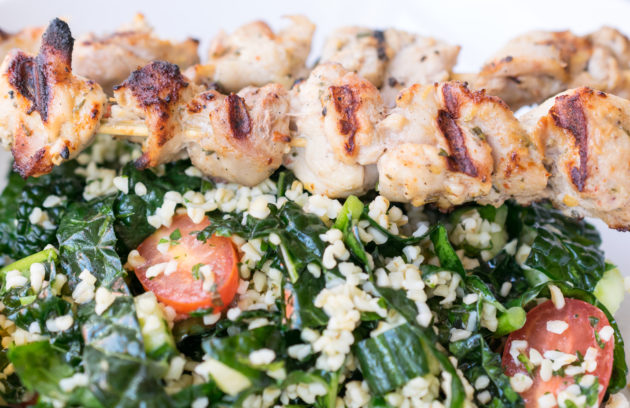 Who says eating something healthy has to taste like eating something healthy? Here in this states we associate foods that are healthy with no taste, card board, bland, boring etc. Delicious has become synonymous with unhealthy. We make fun of people who eat quinoa and drink milk from grass fed cows, but the reality is getting back to basics will help us find the right balance between healthy food and not so healthy food.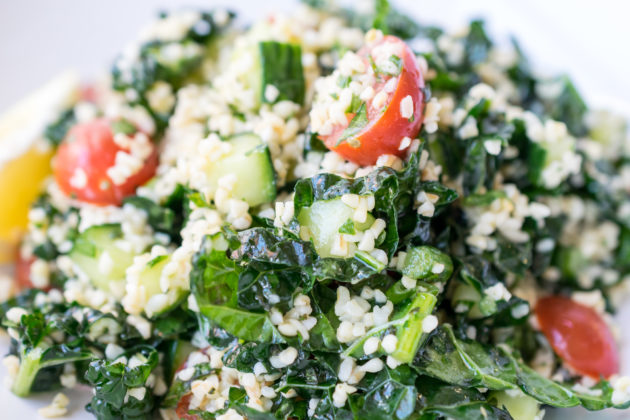 In other countries, their use of fresh flavors, spices, and technique take food to its maximum potential. Foods that are boring on their own are given a whole new life.  This dish draws influence and inspiration from other countries. The yogurt marinated chicken would point to India or Greece, and the tabbouleh is Middle Eastern. In our house, making this chicken and salad signals the return of spring. We grill when the weather becomes warm and want salads instead of heavy sides.
I am sure you guessed it by now, but the recipes below are not only good for you, but they are delicious and you WILL want second helpings. The chicken thighs are marinated in yogurt, lemon, and a few spices to give them immense flavor, then grilled  for a nice crispy char. Tender and juicy on the inside and crispy bits on the outside. The tabbouleh salad is very refreshing and slightly different than what you would traditionally have. I added kale because I wanted it to be more filling. I can be very lazy and love to have a vegetable and starch in one dish. Kale has a lot of great health benefits, check out this article from Well-Being Secrets.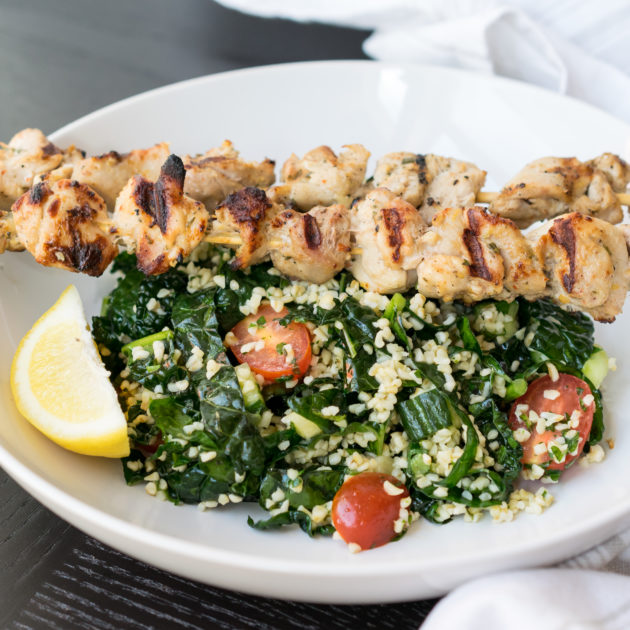 Oh and don't you worry! I am sure I will have something loaded with cheese or sugar on the blog next week. It's all about balance, remember?


Yogurt Marinated Grilled Chicken and Kale Tabbouleh
Ingredients
Chicken:
2lbs boneless, skinless chicken thighs, cut into chunks
½ cup whole milk yogurt
1 lemon, zest and juice
2 cloves garlic, minced
1 tbsp chopped fresh rosemary
1 tbsp kosher salt
¼ tsp red pepper flakes
½ tsp ground coriander
¼ tsp ground black pepper
¼ tsp ground sage, optional
wooden skewers
olive oil
Kale Tabouleh:
1 orange, juiced
1 lemon, juiced
⅔ cup of olive oil
1 bunch of kale (stems removed), cut into thin strips crosswise (shredded)
1½ cups bulgur wheat
1¾ cups boiling water
4 tsp salt
¼ tsp black pepper
1 English cucumber, seeded and chopped
7 scallions, chopped
1½ cups of grape tomatoes, cut in half
1 bunch of parsley, chopped
1 bunch of mint, chopped
half of lemon
roasted pumpkin seeds for topping (optional)
Instructions
Chicken: In a  bowl large enough to fit the chicken, whisk together all of the ingredients except for the chicken. Add the chicken and stir to coat in the marinade. Marinade overnight. Pull the chicken out of the refrigerator 30 minutes before grilling.
Preheat grill to medium high heat. Soak the wooden skewers in water for at least 30 minutes. Thread the chicken onto the skewers. Brush the skewered chicken with olive oil on each side. Grill the chicken for about 6 minutes on one side and about 4-5 minutes on the other side.
Tabbouleh: In a small bowl, whisk together the citrus juice (lemon and orange) and olive oil. Set aside. In a large heat proof bowl, place the bulgur wheat, 2 tsp salt and half of the citrus dressing. Add the boiling water and cover tightly. Let sit for one hour. In another bowl toss together the kale and the remainder of the citrus dressing. Let it sit while you wait for the bulgur wheat.
Add the kale, 2 tsp salt, black pepper cucumber, scallion, tomatoes, parsley and mint to the bowl with the tabbouleh. Toss well to combine. Squeeze the half of lemon over the finished salad. If using pumpkin seeds, sprinkle on just before serving.
*When I juiced the orange and lemon for the tabbouleh, I got ⅓ cup of juice. If your citrus is not juicy, then you may need to add another squeeze of lemon in addition to the half at the end.